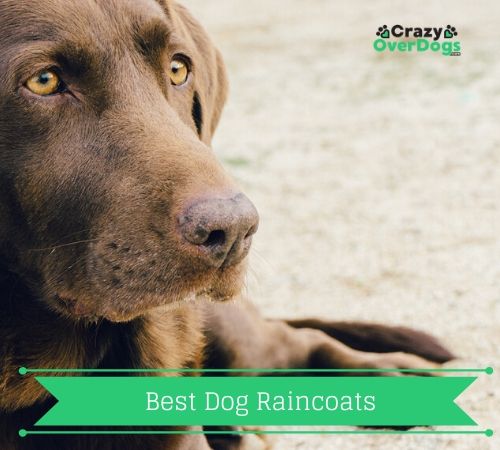 Some dogs, like mine, just have a knack for finding every puddle,  especially during a walk when it's raining.  So if you are trying to keep your dog dry, whether it be nervous or adventurous, what are the best dog rain coats and gear to buy.
The main purpose of this type of pet raincoat is to keep your dog dry, whilst in the rain. However, you will have additional benefits such as keeping their coat cleaner or keeping them warm when it's wet and windy.
Outerwear for dogs come in all sizes and shapes, just as our dogs do. Please remember to measure your pet before selecting a size by following the instructions listed on the ordering website.
Here are the top picks for the best rain gear for dogs. Please click on the relevant link below, should you wish to buy one of the products. For The Full Range Of  Raincoats For Dogs – Please   >>>>Click Here<<<< 
VIDEO: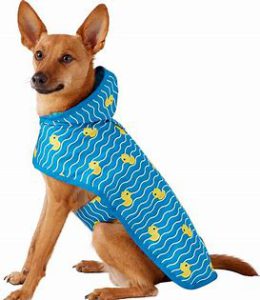 This water-resistant dog jacket will help to keep your pet dry during the rain. Fits securely to give a great fit and a built-in leash hole will allow you to attach a leash to your dog's collar.  The cute ducky print is stylish and adorable. It comes in various sizes and adds fun to any walk.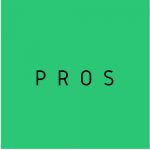 The secure belly straps help to keep the raincoat in place.
Easy access to a harness or collar with the built-in leash hole.
Brighten up any walk with this adorable ducky print.
Easy to keep clean by hand washing.
Water-resistant raincoat.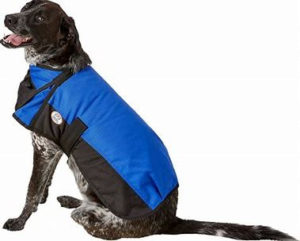 With this waterproof dog jacket and blanket from Derby Originals, you can keep your pet warm and dry in the rain, whilst out for a walk. The coat has a strong 600D nylon outer shell, which is waterproof with a comfortable interlining.
A snug-fitting is provided with an elastic fuzzy fastener belly band and an adjustable neck strap. Maximum comfort is helped with the flexible shoulder gussets.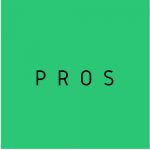 Modeled after Derby Originals' high-quality, winter turnout blanket.
A snug fit is helped with an adjustable neck strap and an elastic fuzzy fastener belly band.
Available in an assortment of sizes and colors.
Made with 150 grams of soft, warm poly-fill insulation.

With this dog raincoat from  Ethical Pet Fashion, your dog will look great and you will feel good. Made of 100% polyester and waterproof, it is stylish and will keep your dog dry in the snow or rain.
A snug comfortable fit comes with the adjustable belly strap, plus the bright yellow color combined with reflective stripes will provide important safety benefits at night or in poor conditions.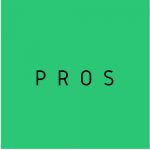 A stylish coat that is quick and easy to put on.
Comfortable and snug fit with an adjustable belly strap and fuzzy fastener.
Available in a wide range of sizes.
100% polyester with a waterproof coating. stylish look.
For added safety, reflective stripes to help increase visibility.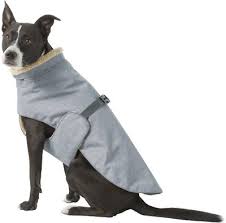 Keep your pet warm and cozy with this comfy dog coat, inspired by the famous city.  Made with a water-resistant exterior and a soft faux fleece lining on the interior.  Extra protection from the wind is provided by a high collar.  You can access your pet's collar easily underneath the coat covered leash hole when going for a walk.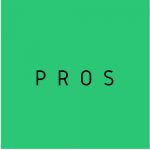 Protect your pet from the rain, wind, and snow.
Water-resistant exterior and fleece lining interior.
The wrap-around design is designed to fit snugly.
An added safety feature is provided by the reflective piping.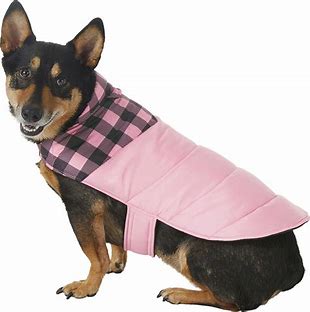 If you are taking your dog out during a cold spell, then this lightweight puffer pet coat will keep your dog warm during the cooler temperatures with a layer of warmth.  It is waterproof and the leash hole is covered, giving another layer of protection.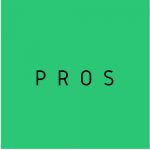 Machine-washable and lightweight for easy cleaning.
Features a cozy fleece lining on the inside and a water-resistant protective shell on the outside.
The functional design includes a hook-and-loop strap for a secure fit.
A covered leash hole for added protection.

For The Full Range Of  Raincoats For Dogs – Please   >>>>Click Here<<<< 
Please remember that when it rains, we can hold umbrellas over us, to help keep us dry. Our dogs, cannot do this. Prolonged exposure to the cold rain or snow can result in a risk of hypothermia. It's not wise to let the body temperature of our dogs get too low.
We hope that the above content is of use to you in helping to choose the best outerwear for dogs including dog raincoats.  Lastly for us dog owners, we have also included this umbrella for you to consider. It's important to keep owners dry as well as our pets.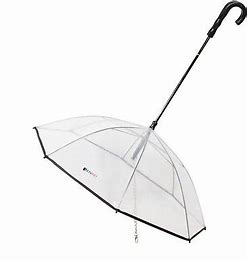 Walk with your dog in the rain or snow with this LesyPet Dog Umbrella which comes with a built-in steel leash. The umbrella is water-proof and also wind-proof. Made of durable material that can resist tearing. It comes with an ergonomic handle, which is ultra-strong.