If you have a dog, at one point you might have thought of buying a dog stroller to help in transporting him around, because of his size, age or medical condition. When you want a stroller, you have to try to ensure you choose from the best dog strollers, available in the market.
They provide a safe way to transport your pet.  Safety is one main factor that makes dog owners buy a dog stroller. A stroller can also protect your dog from the scorching sun and the cold during winter.  With a stroller, you won't have to worry about your pet running into the road.
But what are the important factors  I need to look for because they come in different, shapes, sizes, styles and heights to fit dogs of all sizes?
Our 5 Top Picks For The Best Dog Stroller Reviews.
VIDEO:
1). TOGfit Pet Roadster – Luxury Pet Stroller for Puppy, Senior Dog or Cat: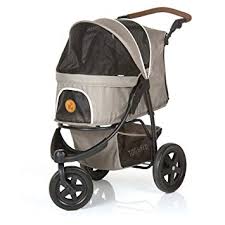 Spend more quality time with your pet and easily master any terrain. Large nettings guarantee plenty of air circulation at the optimal level and a great view of the surroundings. Whether your pet is old or sick, it does not have to stay at home, but be outside with you.
In addition, you have extra storage with a large storage basket. Stored and folded easily in the boot.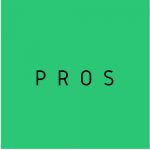 Increases the quality of life for your pet. 
Easy access from both sides and back and front.
This luxury stroller provides high comfort.
Suitable for pets up to 32 Kg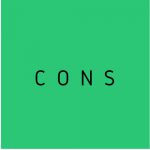 Some customers found folding the stroller an issue.

2). Ibiyaya All-in-One Multifunction Stroller for Dogs: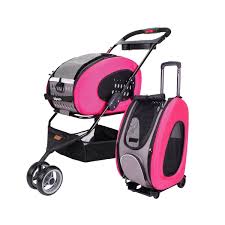 It is one of the latest strollers in the market and is an all in one stroller that will ensure you get an all-purpose stroller. It comes with five different functions. It can be used as a stroller, suitable for leisure walks. It can be converted into a pet carrier, or you can pull it like a traveling bag.
You can also fold it into a neat backpack and carry your pet on your back. It can also be converted into a comfortable dog car seat. It can also be turned into a rolling carrier.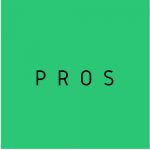 Can easily be folded and is lightweight
 Can be easily maneuvered in tight spaces
 Has secure leash attachments
 Has enough space for your pet
 It also has an undercarriage basket for luggage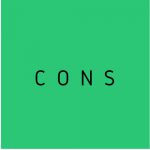 Not suitable for pets heavier than 27 lbs

3). BestPet Extra Wide Leopard Skin 4 Wheels Pet Dog Stroller:
One of the things you'll notice with this stroller is the wider wheelbase, as its name suggests. It's a suitable stroller for a dog owner who would want their pet to have a more fashionable dog stroller.
The leopard skin looks stunning when you go strolling with your tail wager. It looks like a baby bassinet from the outside.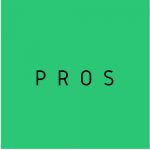 Wide wheelbase
 Is more stable because the pet carriage is well centered
 Has a spacious compartment for your pet and accessories
 Has provisions for cup holders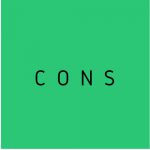 Has no mesh panels on the sides

4). BestPet Pet Stroller: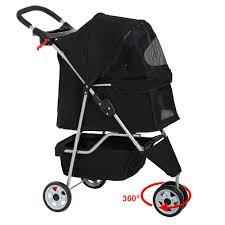 This stroller is easy to open and has ample storage for storing toys and shopping. It also has openings on both front and back ends, for easy placing and removing of your pet.
The wheels ensure your pooch gets a comfortable ride. The mesh windows ensure your dog gets enough air. If you are looking for comfort, then go for this pet stroller. It has been made with comfort as its top priority.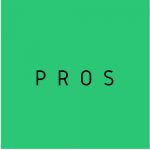 Large wheels for extra comfort when riding on terrains.
 The three wheels ensure easy cornering and maneuvers.
 It can be collapsed for easy storage.
 It is lightweight.
 Has windows for maximum ventilation and better views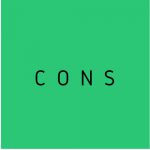 Not suitable for dog breeds weighing more than 30 lbs

5). PawHut Pet 4 Wheels Travel Stroller Dog Cat Pushchair Trolley: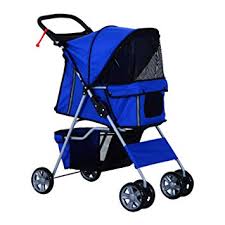 This is a multifunctional stroller and is perfect for pets who are getting older or have disabilities. Instead of staying at home, they are able to still enjoy the outdoors.
It comes with 4 wheels, a bottom storage tray and a breathable net for ventilation. A great addition to you and your pet.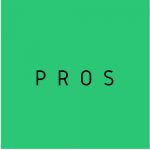 Convenient front and rear entry.
3 breathable nets for safety ventilation.
Large bottom storage basket and cup holders.
Two rear directional wheels with brakes for easy maneuvering, plus two front universal wheels.
Lightweight and foldable
.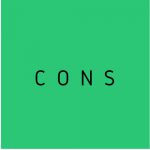 Indications with the amount of weight it can hold are not precise.

Advantages of A Dog Stroller:
 It is useful when taking your dog around
 Keeps your pet safe from the heat and the cold.
Makes your life and that of your dog easier when you go for camping, shopping or when visiting a vet
It keeps you and your pet mobile and makes it easier to move around
How To Use a Dog Stroller:
Dogs, especially small dog breeds, need some help, especially when walking with them in public because people can step on them. That's why you need a dog stroller.
When using a stroller, make sure your dog is securely held inside it. Attach the dog's harness to the ropes inside the stroller, then zip the top to prevent the dog from jumping out.
Some dogs are uncomfortable being around people or other dogs. They may react by barking, which can attract unnecessary attention.
If you have such a dog, add a barrier like a towel to curb the barking habit. But if your dog still feels anxious when inside a stroller, try holding him instead.
Important Factors To Consider Before Buying a Dog Stroller:
Before buying a stroller for your tail wager, you need to consider some important things in advance. They will help you determine, how much space you need, what kind of stroller you need and also help you get a quality product, that will serve you for long.
a). Quality
Quality should be the first thing you consider when buying a dog stroller. Buy from reputable manufacturers and suppliers. Ensure you obtain a product that has extra features such as weather canopies or storage. A quality stroller will serve you for a long time.
b). Price
Every dog owner would want an affordable stroller. Although you have to keep in mind that price goes hand in hand with quality. Quality strollers will tend to be expensive. But you can still get a quality stroller at an affordable cost.
c). Functionality
Some dog owners require a stroller that provides more functionality than what a regular stroller can offer. Some strollers can be dismantled for easy carriage. Others can be pulled behind a cycle.
There are those that can be detached, to become a pet carrier. Before you buy a stroller, consider what it can offer and whether it fits with what you want it to do.
d). Usage
Before you buy, please consider how you want to use it. Do you intend to use it only during winter? Or when you travel? Or it is for day-to-day usage? These questions will influence what type of stroller you chose.
There is no need to purchase an expensive stroller that you will hardly use. And also there is no need for buying a cheap one that breaks down all the time.
e). Size and Weight
When buying one,  it is important to consider the size and weight of your dog. Acquire a stroller that will be able to handle your dog. If you have a puppy, take into consideration that it will one day, grow into a big dog.
f). Weather
One of the reasons that can make you purchase a dog stroller, is the changing weather. You should buy a stroller that keeps your pooch warm during winter and shelters him from the scorching sun. If you live in a windy area, obtain a stroller that has a wind cover, as well as a rain cover.
Conclusion:
When you buy a stroller, don't rush your dog to go and use it. Some dogs may find it strange getting into a stroller; you have to take them slowly with them.  Give your dog some time to get used to the new ride.
Please view our smart buying guides for dog products. Thank you.
This presentation contains images that were used under a Creative Commons License.