Looking for a unique Christmas gift for a dog owner? We hope that the information below can help you make the best choice on the best Christmas gifts for dog lovers. Please read below the compilation of reviews that cover a broad range of products and prices.
If you are in a hurry, we have also included a table of contents below, plus quick links so you can see at a glance what this post contains. The first product will only take two to three minutes to read.
Make sure to check out today's deals to SAVE money on dog products by clicking on the graphic below. Also, click here to visit our special offers page for ongoing offers for more savings on dog products. Don't miss out.
This post contains affiliate links and I will be compensated if you make a purchase after clicking on my links.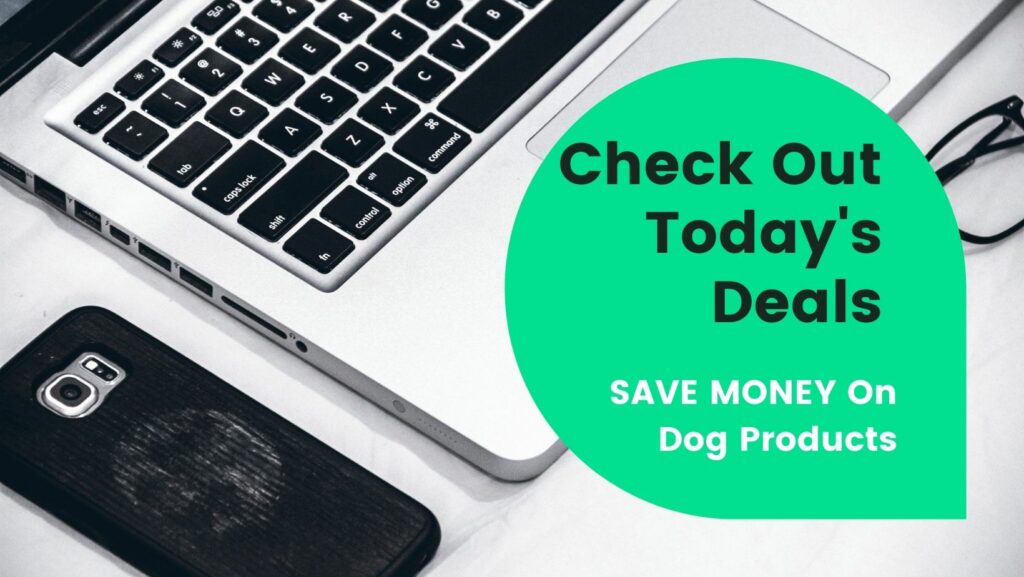 ———————-
Remember that for most dog lovers, as long as the gift is dog-related, then they will love it. For more ideas on the Christmas gifts for dog lovers for the holiday season.
Best Christmas Gifts For Dog Lovers

Video Review

:
—————————
Important Categories:
Gifts For Dogs. (For The Full Range – Please >>>>Click Here<<<< )
Gifts For Pet Parents. (For The Full Range – Please >>>>Click Here<<<< )
Personalized Gifts. (For The Full Range – Please >>>>Click Here<<<< )
———————–
Gifts For Dogs:
—————————–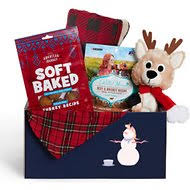 Reward your dog in the holiday season with this gift box from Chewy. Let them know how grateful you are to have them in your life. The box contains great stocking fillers such as a cozy blanket, a bandana that is holiday-themed,  two tasty sets of treats plus a great toy. All selected by pet lovers such as yourself.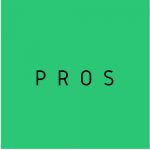 The dog gift box contains five full-sized hand-picked products.
Selected by pet parents like yourself.
Top-rated presents such as a cozy blanket, holiday toy, bandana plus two sets of treats.
No subscription is required.

—————————–

These tasty dog treats from Zuke, are a great stocking filler for the holiday season. Made with turkey, plus cherries, cranberries, and potatoes to honor the season. Made with quality ingredients they can be the perfect treat to aid in training your pet. Contains no wheat, corn, or soy.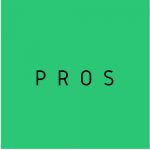 Tree-shaped turkey treats for the holiday season.
Quality ingredients such as cherries, cranberries, and sweet potatoes.
Contains no wheat, corn, or soy.
Healthy bite-size treats containing essential minerals and vitamins.

——————————-
With these dog treats from Greenies, you can help boost your pet's dental health. Easy to digest, and a tasty gingerbread flavor for the holiday season, they are made of natural ingredients plus minerals and vitamins. They can help to remove tartar and plaque with their unique shape.  They come in four sizes to give balanced and complete nutrition for your pet.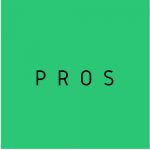 Recommended by vets.
Fortified with minerals and vitamins to give balanced and complete nutrition.
Helps to freshen breath and prevent gum disease.
All-natural ingredients that break down for easy and safe digestion.

—————————–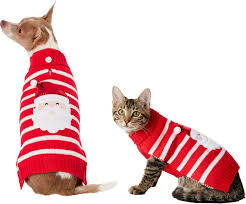 This classic sweater from Fair Isle is available in various sizes to fit most pets. The pullover design, 100% acrylic, brings comfort combined with coziness. Comes with a built-in leash hole.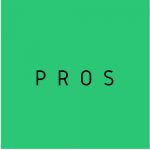 Added warmth from 100% acrylic, which is easy to wear.
Available in various sizes to fit most pets.
Pullover style with a built-in leash hole.

———————-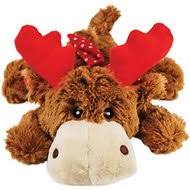 Give your pet the perfect toy this holiday season with this Cozie Reindeer and plush Dog Toy from KONG. Perfect for a snuggle or an active game of fetch. It's durable with an extra layer of material but cuddly and cute.
'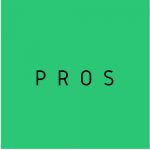 Great for lots of fun inside.
Durable yet soft and cuddly.
Can be used as a comfort toy or for a game of fetch outdoors.
Squeaks during play for additional excitement.

——————————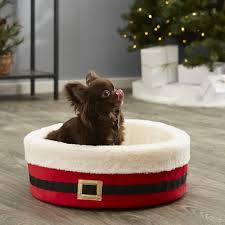 Treat your pet to a spot of comfort for the holiday season. Let them snuggle and cuddle up in the security of the high walls of this plush bed. Beautiful Santa design among these best Christmas gifts for dog lovers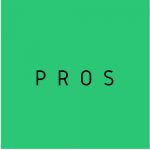 A great spot for the holiday season with a beautiful Santa design.
Perfect for snoozes and naps with the all-around plush fabric.
The high walls provide a sense of security that your pet will love.

—————————–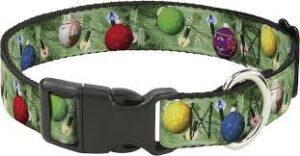 Have your dog look great for the festive season with this decorated tree dog collar. A great unique present in the best Christmas gifts for dog lovers. Designed with a pine tree background, ornaments, and a decorated tree pattern and made from polyester materials. Easy to take off and put on.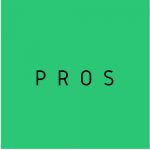 A beautiful bold decorated tree pattern that is great for the holiday season.
Designed to be easy to take off and clip-on.
Easily attach your dog's leash with the sturdy steel D-ring.
Durable polyester webbing. Available in adjustable lengths.

————————————
Gifts For Pet Parents:
————————————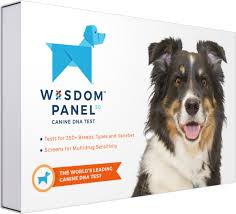 Find out more about your pet with this DNA test kit from Wisdom Panel. It can detect over 250 breeds and trace back three generations to the great grandparents. It's a simple process.  Just swab the cheek of your dog, and send it off in a box that is postage paid. You will receive the results back in just 2 to 3 weeks.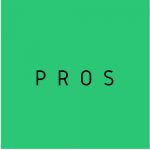 The kit can detect over 250 breeds. 
Results online in 2-3 weeks.
Reveals the genetic background of your dog by tracing it back 3 generations.
Better understand your dog's behavior and unique appearance plus health and wellness needs.

—————————–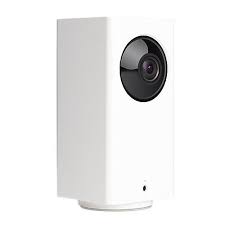 Monitor your dog with this pet camera from Wyze Pan. Track your pet vertically and horizontally across the room. The wifi camera connects to your mobile and allows you to view your pets from anywhere. In addition, the two-way audio allows you to talk to them whilst you are away from home.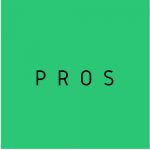 This WiFi camera allows you to check on your pet from anywhere.
Connects to your mobile device.
Rotates vertically and horizontally and features night vision.
Talk to your pet with the two-way audio feature.

—————————-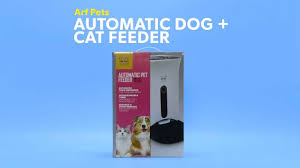 Make sure that your pet is fed at regular times and never has to skip an important meal. With this automatic pet feeder from Arf Pets, you can even call your pet when it's time to eat. In addition, pick up to four meal times plus the size of the portion, which helps to prevent obesity in your pet. The magnetic lid will lock and will prevent your pet from digging in.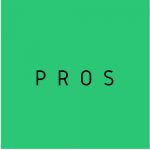 Ensure your pets get fed when you are away from home.
Control the portion size and setup to four mealtimes.
Even record a message to let you know when it's time to eat.
Great for multi-pet households.

—————————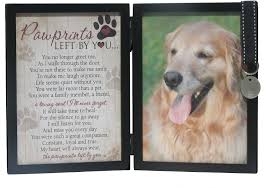 This is a lovely gift for someone who has lost a pet. This is an awful time for any pet parent and will help to bring comfort, plus also honor the precious pet. The double frame features a healing poem plus a 5 x 7 frame for the picture. In addition, a paw-stamped silver disc with ribbon is included.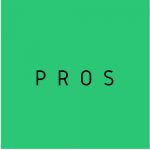 A double frame to comfort a pet parent suffering from the loss of a dog.
The beautiful and heartwarming poem offers comfort during this difficult time.
Honor the memory of the pet with a 5 x 7 picture.
Also included is a black and white stitched ribbon.

—————————–


With this doormat from Design Imports, make coming home each day to your dog a beautiful event. Be greeted with the words "Home is Where Someone Runs To Greet You."  Made to grab loose debris and dirt with the natural coir. It's definitely a great addition to your home. A great gift for any pet parent.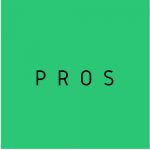 Features the lovely phrase "Home is Where Someone Runs To Greet You."
Grab any loose dirt and debris with the natural coir.
Helps keeps the floors in your home clean

—————————–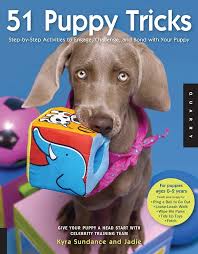 This book is by master dog trainer Kyra Sundance. She will share with you simple tricks with photographic instructions.  Learn how puppies process information which in turn will help you with the gentle techniques contained in this book. They come in bite-size chunks as fun tricks that your pup will love playing with you. Develop that important bond that will grow for years to come.

For The Full Range of Gifts For Pet Parents. Please >>>>Click Here<<<<
Personalized Gifts: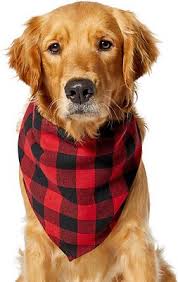 You can customize this special bandana from Frisco with your pet's name. The rollable design will allow you to fit it easily on your pet, plus it is available in three sizes to fit most pets. Add a lovely custom touch to your pet's wardrobe.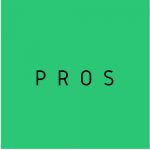 Add your pet's name for a personalizable custom touch. From five fonts up to 13 characters.
Easy cleaned – machine washable.
Rollable design for an easy fit. Available in three sizes.

Let everyone know your pet's name with this durable and bone-shaped tag from GoTags.  This long-lasting tag can accommodate important details such as name, address, and telephone numbers. This is so important if your pet was lost. Available in two sizes that will suit most breeds.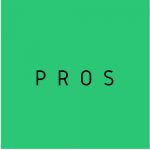 The tags can be customized on each side with 4 lines of text.
The bone-shaped tag makes the information more personal.
It comes in two sizes which will suit most pets.
Available in different materials and colors.

————————-
Show off the lovely personality of your pet on this personalized ceramic mug from Frisco. Get your friends or colleagues talking and asking who's the cute dog. Make it a truly customizable mug.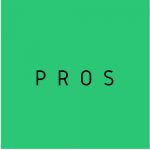 Customize your pet's photos on this ceramic mug.
Show off your favorite dog while enjoying a tea or coffee.
Great for the office or home.
Microwave and dishwasher safe.

———————–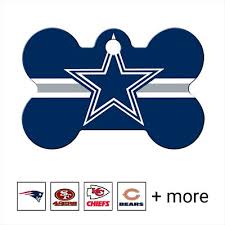 With this NFL bone-shaped tag from Quick-Tag, you can get your dog ready for the gridiron. Durable and long-lasting you can personalize the tag with important details such as name, address, and phone details. In addition, add the football team's name to show his support.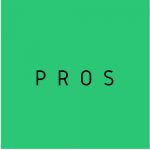 Great as a gift for pet parents.
NFL bone-shaped dog ID tag that is officially licensed.
Customize important details with up to 4 lines of laser-engraved text.
Durable, long-lasting, and made from solid brass.

For The Full Range of Personalized Gifts. Please >>>>Click Here<<<<
We hope that the information above has helped you in your choice of the best Christmas gifts for dog lovers. We know that you would want the best for that precious pet or pet parent. Good luck with your choices.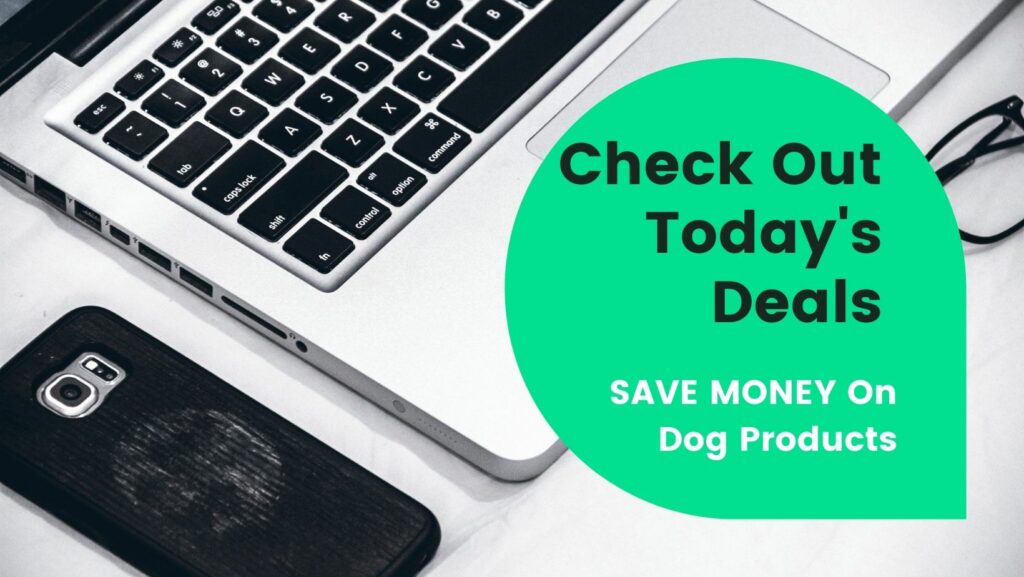 ———————————-
Disclaimer: All material on this website is provided for your information only. It may not be construed as medical advice. No action or inaction should be taken based solely on the contents of this information. Instead, readers should consult appropriate health professionals or veterinarians on any matter relating to their pet's health and well-being. The publisher is not responsible for errors or omissions.