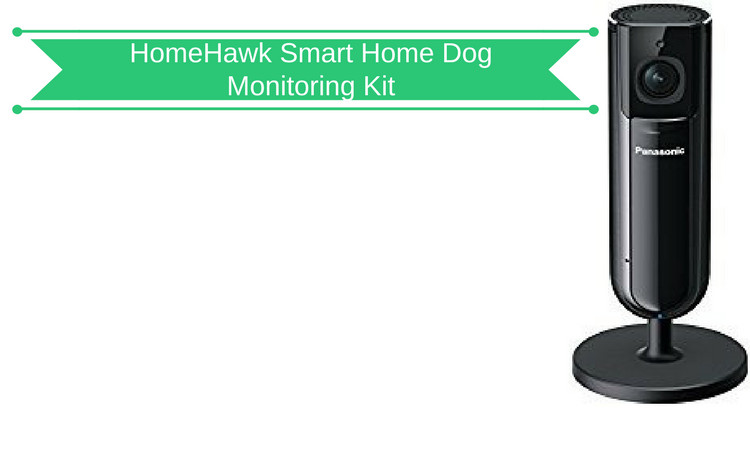 Name: Panasonic HomeHawk Smart Home Monitoring System
Website: https://www.panasonic.com

What Is The Panasonic HomeHawk Smart Home Monitoring System
Your pet is so much part of your family and when you leave your home for work or another important appointment, you naturally feel guilty about leaving them.
What if you could check on them, through  an all-in-one Full HD home camera, via an app on your phone or tablet.  Well now you can with this product.  It will help relieve you of this extra stress and worry and allow you to concentrate on other important things.
This is an all in one camera for monitoring your pet while you are either at work, at friends or some other part of the home. The camera is full HD and you can have all you require for monitoring in real-time from your mobile devices.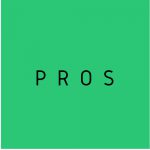 1):  172 Wide Angle View
2):  Color Night Vision
3):  100% Wire-Free Camera
4):  Easy To Set Up
5): No Monthly Subscription.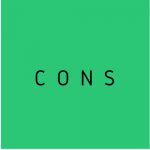 1):  Infrared lights for night-vision can't be turned off.
Video Demonstrating HomeHawk Product
This product was designed so that you could keep an eye on some of the most important things in your life which include your pets.
Overall, the product was well-received by most users, easy to set up,  with the camera wire-free.  It is small and slim, and the contemporary style will enhance any room.
The product is ideal for pet and kids monitoring. When the sensors are activated you will be alerted through your smartphone or tablet. You can then record in full HD or initiate a 2-way talk.
Features and Benefits of The Panasonic HomeHawk Smart Home Monitoring System:
Provides All In One Monitoring:
This allows you to monitor the kids and pets, plus the safety of your home, while you are at work or upstairs in another room.
The Unit is Stylish and a Contemporary Profile:
It is slim and will enhance any decor or room. It can be easily mounted on any interior wall or will fit nicely on tabletops or shelves.
You Can Watch From Your Smart Phone Or Mobile Device:
You can check in on your kids or pets in real-time while you are at work or in another room in the home. Also great for checking on the family home while you are away. Gives an extra piece of mind.
Instant Alerts Via In-Camera Sensors:
The HomeHawk, when it is activated, through motion and sound sensors within the camera, will alert you through your smartphone or mobile device.
So when the pet becomes agitated for some reason or the child suddenly awakes, you can view them in real-time to instantly check on them. One of the major things I like about the system is that the unit is optimized for a 2-way talk.
Keeping Tabs on the Temperature:
A major important benefit for any parent is ensuring that the children and pets are comfortable and safe. You can set the optimum temperature for the home and when it drops below or goes above you will be alerted.
A Full HD Video Recording Is Available In Any Light:
The Panasonic KX-HNC800B has a fast-focusing lens for a sharper image. It can capture smooth movie-quality video and has a large image sensor for Full HD recording in low light.
Large Room View With Wide Angle Camera:
This 142-degree wide-angle view camera provides coverage in large spaces or long rectangular rooms. Other systems may require additional cameras to cover similar large areas. Again you are providing safety in the home and peace of mind for your family.

Alternative Products:
We have listed other similar products that we thought that you might also want to check out:
1):  Samsung Smart Things Home Monitoring Kit:

With SmartThings, you can monitor and secure your home from anywhere with the free SmartThings app. The heart of the system, the Samsung SmartThings Hub will connect all your smart lights, locks, thermostats and more.
You can receive messages of what's occurring within your home and then adjust and control the security of your home and use of your energy. The kit can work with many smart devices and you can add various other devices such as sensors.
Video Demonstrating Samsung SmartThings Product:

2):  Panasonic Smart Home Monitoring Kit: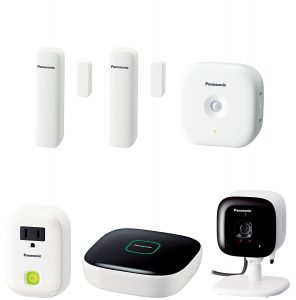 This home monitoring kit allows you to view your pet on any mobile device, via an indoor camera.  This is an essential feature for the technology of today,  where we are now, more and more,  viewing and checking things on our mobile devices such as phones and tablets.
This kit according to the manufacture  is more suited to apartments, small living spaces, and condos. The kit comprises a handset, which is digital cordless, two sensors that can be used on either doors or windows, a smart plug, motion sensor and a DECT (Digital Enhanced Cordless Telecommunications ) enabled hub unit.
Video Demonstrating Smart Home Product:
 Conclusion:
This Panasonic Smart HomeHawk product helps keep an eye on your precious pets and family when you're out and helps to give you peace of mind with these great features.
1):  172 Wide Angle View
2):  Color Night Vision
3):  100% Wire-Free Camera
4):  Easy To Set Up
5): No Monthly Subscription.
Related Posts:
Best GPS Dog Trackers in 2019 – No Monthly Subscription Included