I can identify with this problem because one of our dogs was exhibiting this behavior on our walks, but through Doggy Dan's website, he showed us how to train a dominant dog and enjoy our walks again.
It was not an overnight fix, but through implementing the 5 Golden Rules and following his guidelines, we overcame the problem of how to stop a dog from barking and lunching at other dogs. Now walking the dog is now a pleasure and not a problem.
This content takes around 5 minutes to read, but if you are in a hurry, we have also included a table of contents below so you can see at a glance what the content is.
——————————–
Make sure to check out today's deals to SAVE money on dog products by clicking on the graphic below. Also, click here to visit our special offers page for ongoing offers for more savings on dog products. Don't miss out.
This post contains affiliate links and I will be compensated if you make a purchase after clicking on my links.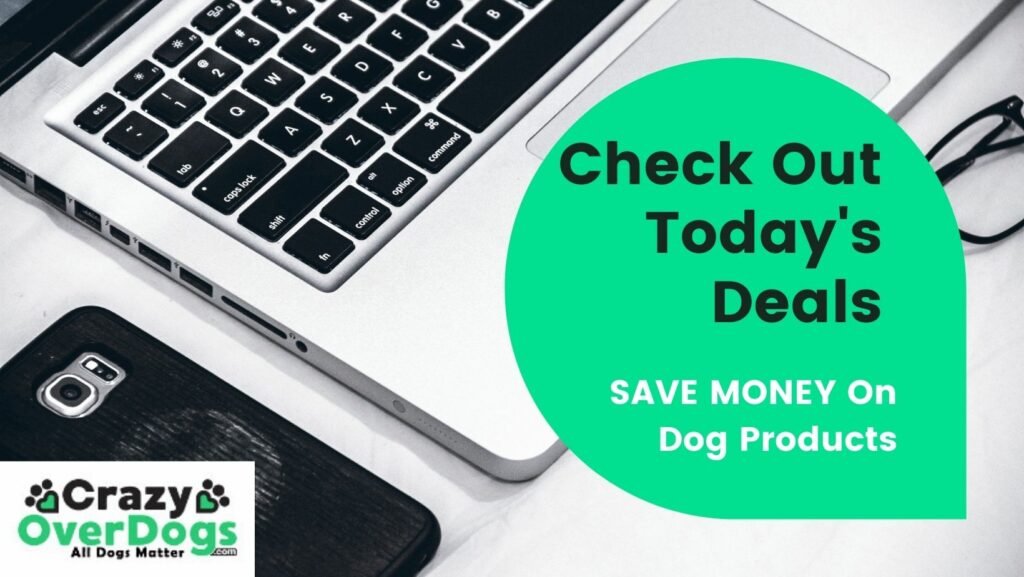 —————————–
I am sure, or you have met other dog owners, who are on a walk with their dog, but their heart misses a beat when they see another dog coming.
Your dog is going to try its best to leave its mark on this approaching dog.
It starts to pull on the lead, like crazy. I know that you have probably tried most things, like trying to distract them with food, or tugging on the leash.
Now your only objective is to keep these dogs apart at all costs. You have basically given up hope of sorting this problem out. You used to enjoy the walks with your dog, so much. We need to learn how to how to train a dominant dog, so as to sort out this problem.
You have surely asked the question, where did it all break down and go wrong. This was me also until we put into place, Doggy Dan's training, especially the important 5 Golden rules.
I now know that I was giving my dog the wrong messages at home and then expecting the situation to be different out on the walk.
Most of us forget that dogs are very simple animals. They are all about surviving. They are not interested in
where the next holiday for the family is, a bigger TV or new furniture. Their basic instinct, above all, is to protect their pack when they are outside. This is you.
Dogs come from the wolf, who are pack animals. They fully understand that within the pack, there are followers and there are leaders. The leaders make important decisions on what is dangerous outside and always are protecting their pack.
So taking this scenario outside on the walk. Your dog has then assumed the role of the pack leader and when they see another unknown dog approaching, they will make all the signs, in order to get them to back down.
Now you have to control your dog from getting into a fight. The problem has all begun within the home, where through your messages, they assume, that they are the pack leader.
This is where I found Doggy Dan's training so helpful. He shows you in a simple way, how to become the pack leader in your home. >>>Click Here Now<<< to view the great website.
Testimonial:
————————–
I love it! The videos are explained in a concise manner and tells almost everything about dominating dog behavior. If you are looking to control, manipulate or correct your dog & puppy behavior, look no further than Doggy Dan!
…Vishal Kashyap
——————————–
He uses what is called his 5 Golden Rules and it is done in a very kind and gentle way, which for me is so important.
You will also see Doggy Dan's dogs in the videos. They fully understand that he is the pack leader and therefore do not overstep their roles. We all understand that all dogs are different, just as their owners are. It does not matter, because the real secret to getting the training to work is to become the pack leader.
If your dog is not listening to you in the home, then any training won't work, because this solid foundation is not in place.
He is thinking more about his role as a pack leader, which means protecting the property and pack. Again, to emphasize this crucial point, you must become the pack leader.
Here are some great tips from Doggy Dan. Again, to emphasize this crucial point, you must become the pack leader.
You Have To Take It Slowly:
As I have already stated, please do not expect overnight success. The pack leader rules, need to be in place. If you go to a slow place, confidence will build with you, as well as your dog.
Use Food Distractions:
Do not use their normal biscuits as a distraction. Instead, use cheese or chicken. Above all, please remember to not reward your dog, if they have lunged towards the approaching dog out on the walk.
Above All Master and Control The Walk:
The important part is to ensure that you have control of your dog, especially when you meet any incoming dog. Always consider using another type of device, such as a flat collar, if you find that this works better.
Above All Stay Focused:
You need to stay focused on how your dog behaves.
Try to Stay Relaxed:
Always try to stay relaxed.
The appealing thing about this method is that it works with the natural instincts of your dog. Therefore, by becoming the pack leader, the dog will not try to be over-protective and dominant.
Have a look at this video below of two dogs playing at being submissive and dominant.
Take control of your dog now by becoming the pack leader through this kind and the gentle method by Doggy Dan. >>>Click Here Now<<< and take a look around this amazing site now.
Please remember that to deal with the cause of the problem, you have to start giving the right messages to your dog. I hope that the content has helped you with how to train a dominant dog.
Estimated reading time: 5 minutes