I have often wondered how to read a dog's body language when I am out walking with my dogs. What are they thinking when they meet other dogs. I am at times, unsure of whether to let the interaction stop or just continue.
This content takes around 4 minutes to read, but if you are in a hurry, we have also included a table of contents below so you can see at a glance what the content is.
Make sure to check out today's deals to SAVE money on dog products by clicking on the graphic below. Also, click here to visit our special offers page for ongoing offers for more savings on dog products. Don't miss out.
This post contains affiliate links and I will be compensated if you make a purchase after clicking on my links.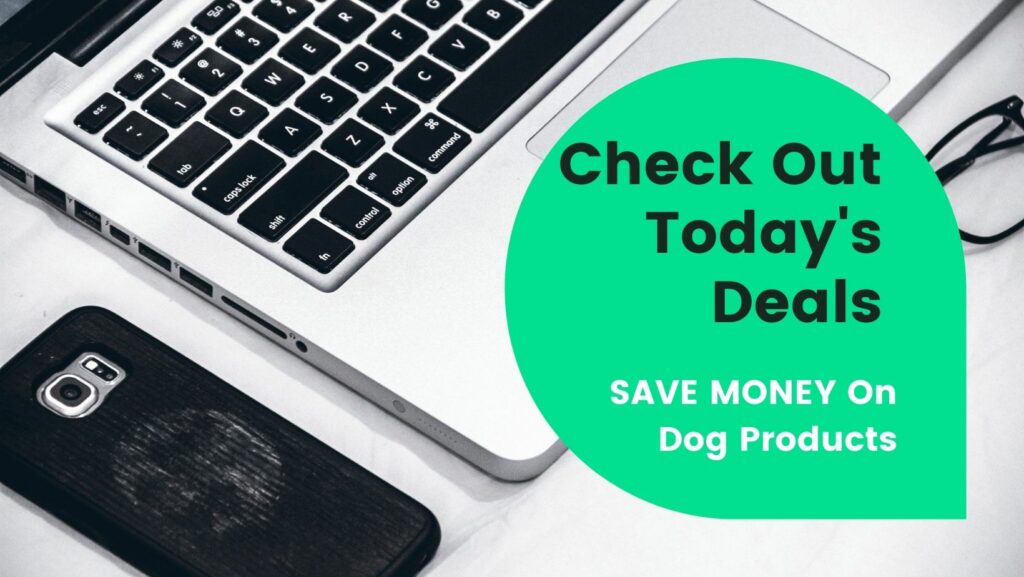 —————————————
It is knowing how to read your dog properly and not misread the behavior, which can help so much with proper socializing. I think that most dog owners are unaware of how to do this properly.  However, for dogs, this process comes naturally to them.
I always try to remind readers that the health benefits, which a dog brings to their quality of life,  are so great. To help you, here is a list of the main gestures', so that you can understand far better than what your dog is thinking.
Also, at the end of this article is a link to an amazing video compiled by the trainer Doggy Dan. This will let you watch these behaviors, at your leisure.
1): The Head Over:
This is when they place their own head on the back of another dog's back. Mine does this all the time and it is another way to try to assert their dominance over the dog. If this dog does not want this sort of behavior, it will let the other dog know in no uncertain terms.
2): Does 360 Degree Spins:
One of our dogs does this all the time. It's so funny watching it do a complete spin. It is trying to encourage play activity. It's important to remember that when any dog turns their back on another dog, that is a sure sign that they are relaxed and not scared of this other dog.
3): Returning To Play With A Dog:
This is an indication and a sign that the dog is happy to play again. When two dogs have been previously playing and one appears to be being pushed and dominated but comes back for more, then that's a good sign. If this dog wasn't happy, then it would definitely stay away.
4): When It Gets It's Hackles Up:
This is when the hair on the dog's back rises. Most dog owners automatically think that this indicates that the dog is becoming aggressive, but it can also mean that it is exciting. Most dogs, not all, love playing with other dogs. Therefore, please don't panic, when you see this sign occurring.
5): It Lifts One Paw In The Air:
This is a gesture by the dog, indicating that it is being submissive. Therefore, this is a good sign and generally, the behavior between the dogs will be non-aggressive.
One of the best places to learn how to read a dog's body language is Doggy Dan's website called the Online Dog Trainer. It has over 250 videos inside, so I recommend that you go and have a look.
I only recommend this site, because it has worked for me, in dealing with the problem of one of my dogs, who was barking at other dogs on our walks.
We were not enjoying the walks anymore and by implementing his instructions and watching the videos, we sorted the problem. You have to put the work in, but the material and the support and backup on the forum are just great.
TESTIMONIALS:
———————————————–
The only trainer that has made a huge, immediate impact to STOP THE BARKING…
The Online Dog Trainer has been a godsend to myself and our family, and our Australian Shepard dog that was highly stressed with constant barking. I am tremendously grateful for the new peace in our home!"
Carol McWilliams
Ontario
————————————————-
"My puppy is learning to BEHAVE very fast!
We are working through your 5 Golden Rules rules and Max is a JOY! Amazing tips are working so effectively, and we're seeing the results we want in a short amount of time. Thank you, Doggy Dan."
Teresa Sutton
——————————————-
——————————–
Therefore to get your access now, <<<Please Click Here Now.>>>
Estimated reading time: 4 minutes
———————————–
Disclaimer: All material on this website is provided for your information only and may not be construed as medical advice. No action or inaction should be taken based solely on the contents of this information; instead, readers should consult appropriate health professionals or veterinarians on any matter relating to their dogs' health and well-being. The publisher is not responsible for errors or omissions.