Looking for the best skin and coat supplements for dogs, then we have a solution for you. 
In addition to regular grooming, many dog owners like to give their pets a supplement to help keep the skin and coat looking good.
When combined with a balanced and varied diet, they can help with the overall condition of the skin, plus cut down on shedding and relieve allergies which can cause loss of the fur.
If you are in a hurry, we have included a table of contents below, so you can see at a glance what the content is. The first product will only take two to three minutes to read. This liquid supplement helps to support skin and coat health. Although it did not work for some pets, nearly 90% of reviewers have recommended this product.
Make sure to check out today's deals to SAVE money on dog products by clicking on the graphic below. Also, click here to visit our special offers page for ongoing offers for more savings on dog products. Don't miss out.
This post contains affiliate links and I will be compensated if you make a purchase after clicking on my links. 
—————————-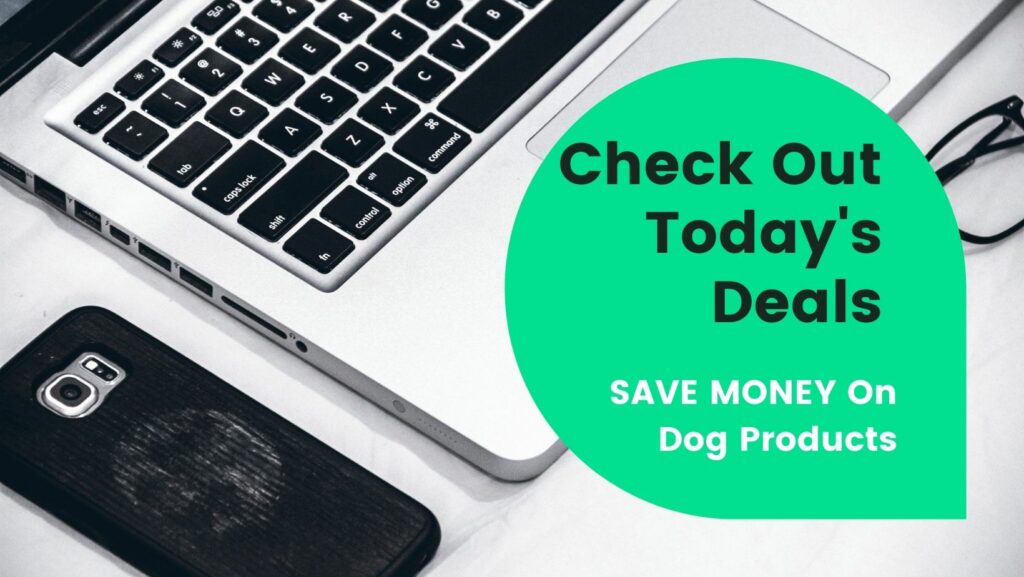 Here are our top picks for the best skin and coat supplements for dogs.
————————–
Best Dog Skin and Coat Supplements Video Review:
————————-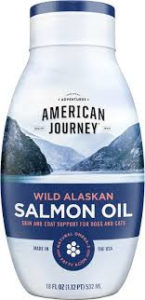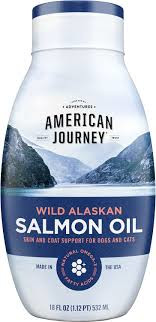 This liquid dog supplement from American Journey can help support your pet's immune system. It contains omega-3 fatty acids that come from the salmon, which help to promote coat and skin health, including sensitive skin. Delivered in a squeeze bottle with a drip-free cap.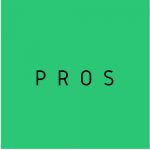 A tasty supplement for dogs and cats, that can encourage healthy joints.
 Helps to support coat and skin health with omega-3 fatty acids.
 Convenient squeeze bottle with a drip-free cap.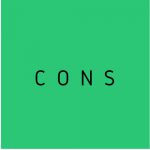 Some pets did not like the product.

Actual Review from Buyer: – " I swear by this stuff! My dog has very small white flecks throughout his body and this salmon oil helps with the dryness and gives him a beautiful soft shiny coat. Sometimes it hurts him at the end of a brushing session with the furminator because his skin is dry/sensitive and I have noticed that there are less flakes and dryness when I give this to him regularly. I put it on top of his salmon rice kibble and he licks his bowl clean. Would recommend if your dog has dry or sensitive skin!"
————————————–
From both positive and negative, 90% of reviewers would recommend this product.
American Journey Wild Alaskan Salmon Oil Liquid is one of the best products available in the industry. This supplement offers all the nutrition for your dog, which is essential when it comes to maintaining a healthy lifestyle for your pet. This salmon oil supplement is rich in vitamins, minerals, proteins, and essential fatty acids that can help your pet to grow and become strong and fit.
The most common positive feedback from those who have used this fish oil supplement is that their dogs have been able to increase their energy levels, have increased stamina, and have been able to display signs of better skin and coat conditions.
Another great benefit is that this supplement helps in the control and regulation of blood sugar levels in your dog. It also helps to regulate and control inflammation in your pet's joints, thus making your dog healthier all the way around.
——————————-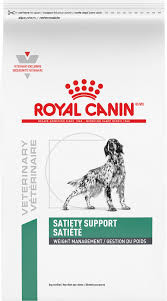 This dry dog food from Royal Canin can help pets that suffer from digestive upsets, hair loss, or itching. The ingredients support your pet's skin health plus digestion that is helped with an exclusive fiber blend.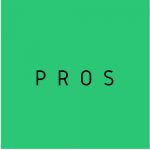 Designed for dogs with food sensitivities.
Can help lower GI and skin reactions.
Helps to reduce inflammation and support healthy skin.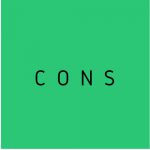 Some dogs just don't like the food.

Actual Review from Buyer: – " My dog has had skin allergies ever since I adopted him. My vet recommended trying this food to see if his allergies are food related. Before starting this food, he pretty much always had an ear infection. He's been on it for almost 2 months and hasn't had any ear infections or hotspots. This food is a miracle worker for a problem I've been dealing with for over a year. Soon I will begin working with the vet to find a non veterinary diet food that works for him."
—————————-
From over 1100 reviews, both positive and negative, 96% of reviewers would recommend this product.
The Royal Canin Veterinary Diet is a complete protein, high-energy and complete dietary formulation specifically designed to meet the dietary needs of dogs with skin allergies. It is dry dog food for adult dogs of all ages and provides a high-energy, low-calorie, complete protein supplement with a wide variety of food choices to meet a number of dietary restrictions.
The nutritional content of this premium nutrition brand is ideal for cats and dogs with dietary deficiencies including those with hypothyroidism, diabetes, obesity, osteoporosis, chronic renal disease, and kidney disease.
It is manufactured in an FDA-approved facility and meets or exceeds the required nutrients in foods that are commercially available. Pet owners have noticed improved immune systems, an increase in energy and vitality, weight loss, less shedding of the coat, healthier skin, improved breath, and more.
—————————-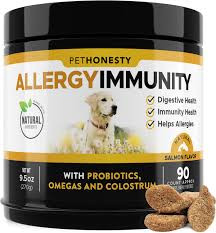 Boost your pet's immune system with this dog supplement and all-natural chews from PetHonesty. They can help to relieve allergies associated with food, skin, and the environment with ingredients such as Vitamin C turmeric, colostrum, and salmon oil from Alaska.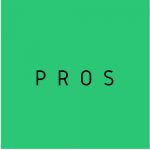 Boost the immune system with this all-natural supplement.
Helps to reduce food, environmental, and skin allergies.
Gut health is helped by probiotics.
Contains no wheat, GMOs,  corn, or preservatives.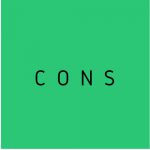 Did not work for some dogs.

Actual Review from Buyer: – " My dog has had terrible environmental allergies resulting in frequent scratching and chewing that causes bald spots. She was on apoquel but this caused her to have urinary tract infections and it caused her to be very anxious (listed side effects), it is also hard on their organs. After stopping apoquel itching and chewing returned with a vengeance. Enter pet honesty allergy chews. THESE HAVE WORKED WONDERFULLY. She is not itching or chewing, her coat has recovered and she has more energy. She gets two each day at her dinner time and thinks they're a treat. I definately will keep her on this long term. "
———————————
From over 2000 reviews, both positive and negative, 90% of reviewers would recommend this product.
Pet Honesty Allergy Relief is designed to help your dog with its allergies, as well as give you a little extra boost when shopping with your best friend. The ingredients used to create this product are completely organic, which is important to any product that is on the market.
Allergy relief products are designed to be healthy for your pet so that it can live a long, happy, and healthy life. When it comes to finding a safe and effective way to treat pet allergies, you will find that Pet Honesty Allergy Relief is exactly what you have been looking for.
 —————————–
This dry food from Hill's has been developed and formulated by vets and nutritionists, to help support food and skin sensitivities that your dog may have.  Helps to alleviate any adverse reactions to the protein that is contained in food.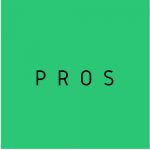 Improves the stool quality and your dog's digestion.
Helps to eliminate the causes of skin irritation and create a healthy skin barrier.
Optimal health benefits with additional proven antioxidants.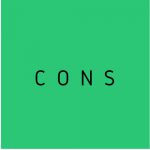 Some dogs did not like the food.

Actual Review from Buyer: – " My golden retriever was put on an elimination diet back in December to see if Chicken was causing his skin irritation, tear staining, etc. This food was a lifesaver. It is expensive but it helped up tremendously to get the weight back on him and pinpoint our main issue. I will say that I do not think this is a long-term food option as it did take a significant toll on my Golden's coat."
——————————-
From both positive and negative, 94% of reviewers would recommend this product.
Hill's Prescription Diet Food Sensitivities dry dog food contains an ingredient called BHA. This is a fatty acid that is recognized by the AAFCO Animal Food Ingredient Code as having an approved safety status for all dogs.
The AAFCO also requires the ingredient to be derived from a plant source and to have been created by qualified pharmaceutical personnel. The Hill's website notes that BHA "has been shown to reduce the signs of allergic reactions and stimulate immune system function in dogs."
————————–
These tasty salmon-favored chews from Zesty Paws will help your pet to look and feel great. This supplement contains high-quality ingredients such as Biotin which helps to reinvigorate itchy and dry skin. The heart and immune system are supported by omega 3 and 6 fatty acids derived from salmon oil. A great supplement for dogs of all ages.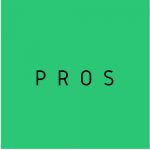 The heart, immune system, and coat are supported by omega-3 and 6 EPA fatty acids 
Strengthens cardiovascular and brain health.
Helps to re-energize and restore shine to dull coats.
Contains no wheat, corn, preservatives, or artificial flavors.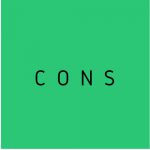 Some dogs would not eat the chews.

Actual Review from Buyer: – " Before adding Salmon Bites into our dog Maisy's daily routine, her skin was dry and flakey and her joints were constantly locking up and causing her to limp. We now give her one bite daily (paired with Glucosamine for joint health, which she already took prior) and her skin is flake-free and she's been more active and playful. No leg pain or stiff joints! I highly recommend talking to your vet about adding these to your dog's diet! Maisy is a 10 year old, 15lb pug/shih-tzu mix "
———————————–
From both positive and negative, 95% of reviewers would recommend this product.
Zesty Paws Salmon Bites Skin and Coat Dog Supplement is a revolutionary new supplement for dogs. It contains a number of all-natural ingredients that help the body to heal itself.
There are a number of different ingredients in this supplement including Milk Thistle, Dandelion Root, Echinacea, and Indian Ginseng. Many of these have been used in traditional Chinese medicine for hundreds of years. The use of herbs and other natural supplements has been shown to reduce inflammation and promote overall health.
—————————-
Always make sure to check out  "Today's Deals"  below to SAVE money with your dog products.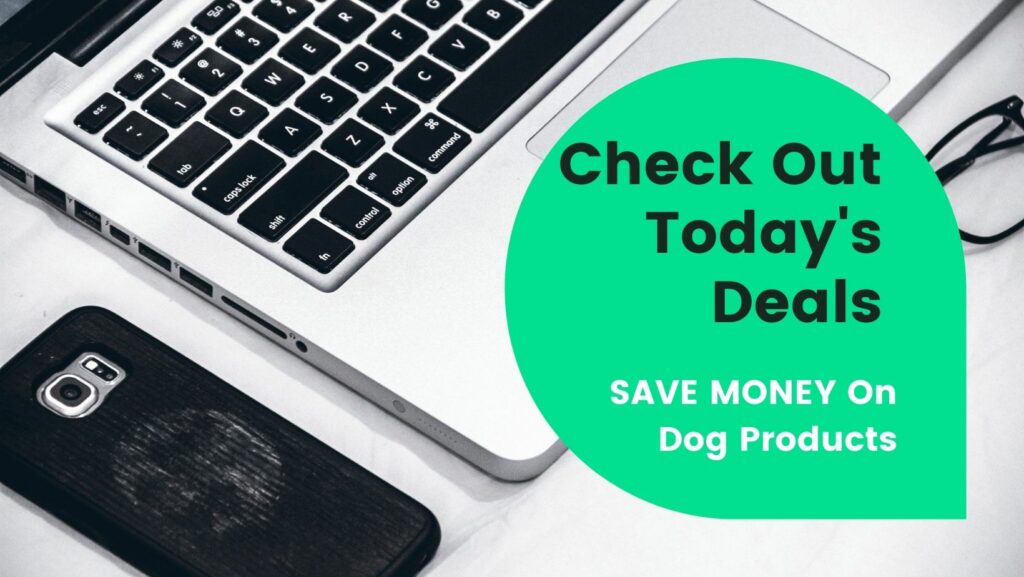 ————————–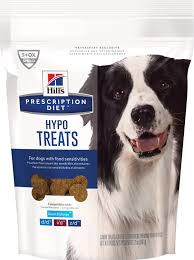 If your dog suffers from any food sensitivity, you can still give them a treat with this dog treat from Hills. Adverse reactions to food are alleviated with the chicken liver protein, plus the coat and skin are nourished with omega 3 and 6 fatty acids.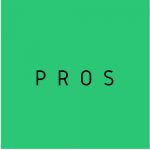 A delicious treat for dogs suffering from food and skin conditions.
The skin and coat are nourished with omega-3 and 6 fatty acids.
The skin barrier is further supported with additional antioxidants, minerals, and vitamins.
Helps to support good dental hygiene by scraping tartar and plaque from his teeth.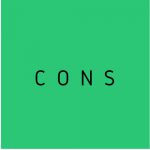 Some owners found the treats too hard for their pets.

Actual Review from Buyer: –  " I recently purchased the Hill's Prescription Diet dog treats because my Rottweiler, Abby, eats the prescription food. I fully expected to give them away because Abby is a very picky eater. She actually likes them, and I feel good giving them to her because I know they will not hurt her sensitive tummy. It's a win-win situation."
—————————–
From both positive and negative, 96% of reviewers would recommend this product.
The main benefit of Hill's Prescription Diet treats for dogs is that they are made with only healthy ingredients which help to prevent the occurrence of dental problems. This includes such problems as gingivitis, plaque, and tartar.
The main reason why many people decide to switch their dog's diet is that they want their dog to be able to maintain healthy body weight. By making sure that their dog has a daily dose of Hill's Prescription Diet treats, they are helping to ensure that their pet is getting all of the nutrients necessary to maintain their health.
———————-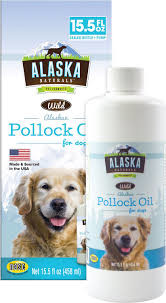 Help to keep your pet's coat and skin healthy with this dog supplement from Alaska Natural. Omega 3 fatty acids and DHA are delivered from the  Alaska salmon, which helps to keep your dog's coat and skin healthy and bright. In addition cardiovascular is supported for overall health.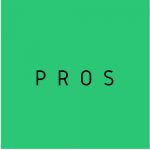 Promotes a healthy and smooth coat through EPA omega-3 fatty acids and concentrated DHA. 
Helps to support cardiovascular health, immune system plus nervous and brain functions.
Contains no synthetic flavors or preservatives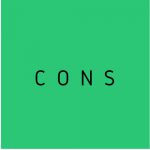 Some dogs didn't like this supplement.

Actual Review from Buyer: – " I have an 11 year old Bernese and this product has really done wonders for his coat, skin and joints."
—————————————–
From both positive and negative, 88% of reviewers would recommend this product.
One of the best benefits for dogs that you will find with their supplement is the protection from common side effects that can be caused by some commercial brands. Some of these include heart attack, blood pressure, and stroke. The amount of damage that can be caused to your dog from these things can be really significant.
By taking a little bit of the oil supplement with your pet's food or with your dog's water, you can help them avoid these things and keep them healthy. These are only two of the many benefits for dogs that you'll find with Alaska Naturals Wild Alaskan Salmon Oil Natural Dog Supplement.
————————-
The Importance Of a Dog's Coat:
Most dog owners like to see a shiny and healthy coat on their dogs. However, most of us don't realize the practical and vital importance of the coat and the many important benefits that it serves.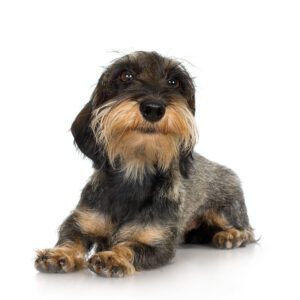 The importance of a dog's coat cannot be overstated. A dog's coat actually refers to the outside covering of the animal. It can be long or short, wavy or straight, and curly or straight.
Benefits:
One of the main benefits of the coat is protection.
It protects the skin.
The coat protects your dog from the cold weather when it's snowing or the wind is bitter cold.
It protects from the harmful rays of the sun.
Protects from cuts that could happen when they roam out in the fields or woods during walks.
Thin and fragile skin can be thickened and tightened by the right diet and the use of products designed for skincare. Water retention is also lessened, as is excessive dryness and scaling, all of which can lead to skin problems and possibly skin cancer in some breeds.
When the coat and skin are healthy, it will not itch and in addition will help to resist and fight infection much better. It's therefore important to do regular brushing and grooming because it helps to prevent matting and also supports the creation of a healthy coat from the natural oils in a dog.
Conclusion:
Please remember that supplements support the overall health of the skin. A good diet can help deal with allergies and sensitivities that your dog might, unfortunately, suffer from. As always, please consult your vet if you are unsure of anything in relation to the health of your pet.
We hope that the information contained within this content has helped you make the correct choice on the best skin and coat supplements for dogs.
——————————–
Always make sure to check out  "Today's Deals"  below to SAVE money with your dog products.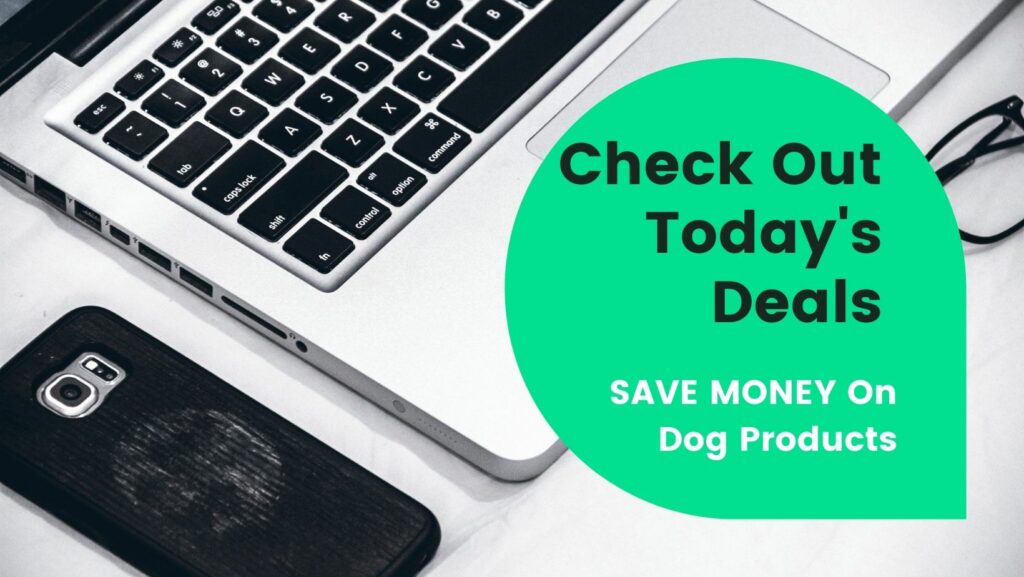 ——————————–
Disclaimer: All material on this website is provided for your information only. It may not be construed as medical advice. No action or inaction should be taken based solely on the contents of this information. Instead, readers should consult appropriate health professionals or veterinarians on any matter relating to their pets' health and well-being. The publisher is not responsible for errors or omissions.