Looking for the best dog vitamins and supplements, then we have a solution for you. As dog owners, all our pets are different. However, like humans, some also need help to ensure that their diet contains enough vitamins. Senior dogs would benefit from joint care supplements because they would help to keep them more active.
If you are in a hurry, we have included a table of contents below, so you can see at a glance what the content is. The first product will only take two to three minutes to read. This supplement helps to promote healthy joints, plus coat and skin health. Although some pets did not like the taste, nearly 90% of reviewers have recommended this product.
Make sure to check out today's deals to SAVE money on dog products by clicking on the graphic below. Also, click here to visit our special offers page for ongoing offers for more savings on dog products. Don't miss out.
This post contains affiliate links and I will be compensated if you make a purchase after clicking on my links. 
———————————–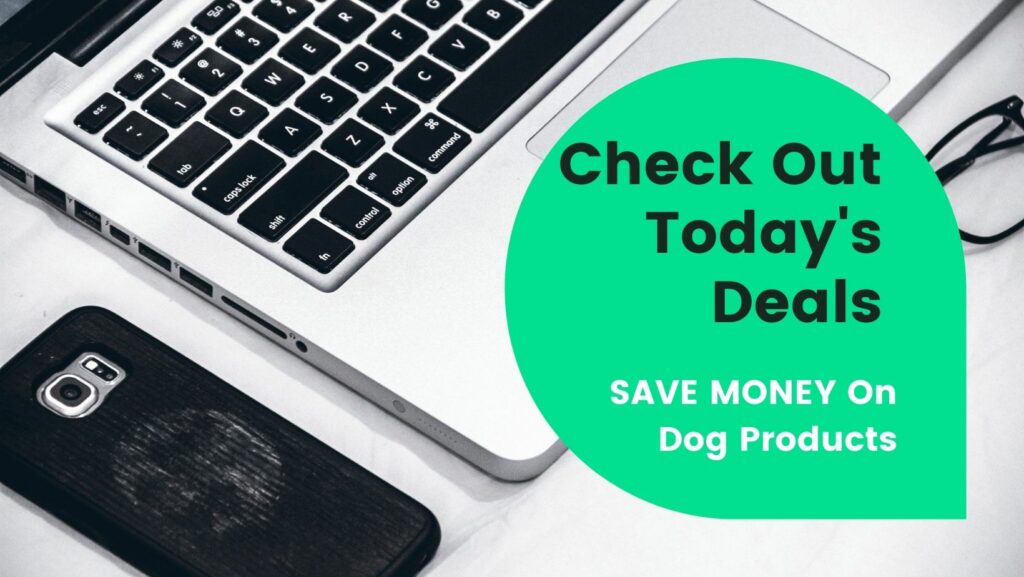 ———————-
Here are our top picks for the best dog vitamins and supplements. To view the full range, please >>>Click Here<<<.  Thank you.
Over 30% of dogs and cats in the USA are given vitamins and supplements. These range from supplements that can support arthritic joints and multivitamins, to fatty acids that can help to improve the coat and reduce shedding.
Best Dog Vitamins and Supplements Video Review:
—————————
This liquid dog supplement from American Journey will help to boost the immune system. In addition, it also cares for the skin and coat. Made with salmon, it contains the important omega-3 fatty acids.  They promote coat and skin health and relief for sensitive skin. The product comes in a squeeze bottle with a drip-free cap, making it easy to administer.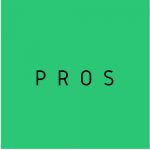 This supplement provides a  tasty flavor your pet will love.
Skin and coat health is promoted by omega-3 fatty acids.
Promotes healthy joints.
Add easily to your pet's food.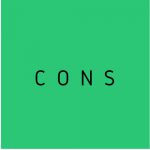 Some pets did not like the taste.

Actual Review from Buyer: –  " The product is great but be careful when squirting it as it can fly widely around and not just get onto the food you're aiming at! I was told by my vet to apply a few drops to foot but this container allows for a squirt, not drops. "
——————————
From both positive and negative, 90% of reviewers would recommend this product.
American Journey Wild Alaskan Salmon Oil Liquid Dog & Cat Supplement has a wide range of benefits for both your pet dogs and cats. This product has been in the market for many years, which is one of the main reasons it is still being sold today.
This supplement has the right combination of vitamins, minerals, and other nutrients that help your dog or cat maintain a strong immune system. It also contains fatty acids, which are necessary to help your pet's skin, coat, and fur, plus contains vitamins that help make your dog or cat's vision better. Great for improving the overall health of a cat or dog.
——————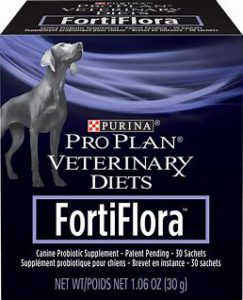 This probiotic supplement has been blended to promote a healthy immune system, plus intestinal health. It has been proven effective as well as safe. FortiFlora contains  Enterococcus faecium SF68 which provides shelf stability. In addition, contains 100 Million live microorganisms.  Just sprinkle on your pet's food, making it easy to dispense.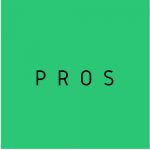 A tasty meal for your pet.
Reduces flatulence in dogs.
Microencapsulated probiotics help to promote intestinal health balance.
The immune system is supported by vitamins C and E plus beta-carotene.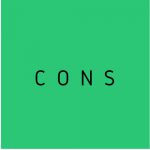 Didn't work for a small number of dogs.

Actual Review from Buyer: – " Vet recommend for my 12yr &10 yr old Aussies. The 12yr old has pancreatitis. With medication and an adjusted diet of chicken and rice with Hills science diet sensitive tummy dry dog food and the probiotics once a day, she is feeling much better. I added this probiotics to my 2nd dogs food as well for preventive. She also seems to have had some improvements, less gas and tummy rumblings. I definitely would recommend this for any fur babies with sensitive stomachs. "
—————————
From over 2000 reviews, both positive and negative, 98% of reviewers would recommend this product.
The Purina Pro Plan is the ideal choice of diet for dogs with a propensity to develop certain types of diseases. This diet is specifically formulated to provide your pet with all the essential vitamins, nutrients, and minerals it needs to stay healthy and fit.
These are beneficial ingredients that help in the prevention and treatment of diseases such as Chronic Fatigue Syndrome (CFS), IBD, Chronic Persistent Fatigue Syndrome (CPS), and many other types of disease. Moreover, these supplements also help in preventing the occurrence of allergies and maintaining the appropriate levels of essential nutrients in your dog's body.
————————————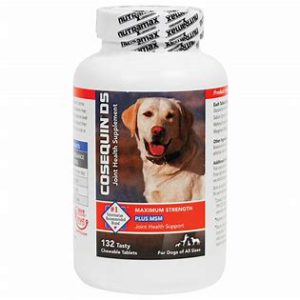 Specially formulated for adult dogs,  this joint supplement support contains glucosamine and chondroitin. Recommended by vets, these chewable tablets are easy to administer and easily crushable within your dog's food. Contains chondroitin sulfate and glucosamine.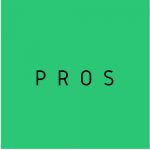 Formulated to help support joints and mobility. Effective and safe.
Suitable for adult dogs of all sizes and breeds.
Recommended by veterinarians.
Chewable tablets, double strength.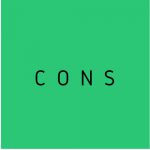 Some dogs did not like the supplement.

Actual Review from Buyer: –  " My vet recommended this and many friends use it for their dogs who are athletes (agility). I have seen a difference already. My dog was limping (may have been a muscle pull — I'll never really know) for about a month. I started with 3 pills a day (he is 73 pounds) and I have seen a great improvement. We now do the maintenance dose of 2 daily pills. He likes the taste, too. We hike for 3-5 miles almost every day. It cannot hurt him and can only help him as he ages. He is 6. I will continue with Cosequin DS. "
———————————–
From over 2200 reviews, both positive and negative, 97% of reviewers would recommend this product. 
Canines love to chew and Nutramax Cosequin Chewable Tablets are a great way to help them do it without getting hurt. It is a safe, natural product that contains only ingredients that are tested and approved by the FDA.
This gives the dog the benefit of chewing on something that is good for them without risking injury or illness. They can also grow bigger thanks to this natural ingredient. The Chewable Tablets are specifically formulated to stimulate mast cell growth in dogs, a process that helps to maintain and stimulate the production of collagen and elastin. Collagen and elastin are responsible for keeping the joints healthy.
When dogs get older, they experience less movement and exercise which causes them to lose mobility and their bones start to weaken. The symptoms of this disease include stiffness of the joints, swelling, hotness, and pain.
This can be very painful and the dog may not be able to move as much as he or she used to. By choosing to use a product like this, you are giving the dog the benefits of natural supplements that can prevent the disease and provide much-needed growth and maintenance for the joints.
———————————- 
This cost-effective joint health supplement has been developed from over 10 years of clinical research and application.  The product combines decaffeinated tea plus NMX1000 ASU, with chondroitin sulfate and glucosamine hydrochloride.  This is one of the top joint health management formulae which is available for your pet.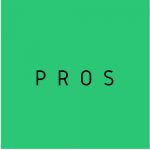 Recommended By Vets.
Soft chews for large size of dogs
Support for joint health with high-quality ingredients such as chondroitin and glucosamine.
Helps to stop the breakdown of cartilage while supporting the regeneration of new cartilage.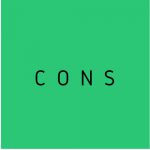 Some dogs did not like the taste.

Actual Review from Buyer: –  " Years ago our first two dogs started having joint pain when they hit 9 & 10 years old. Within a month of taking these they were running and climbing stairs again with ease. We now have 3 other dogs and one is another senior girl. When we first adopted her, 2 years ago, she was in bad shape. She was limping due to hip and joint pain and was barely able to walk around the house. We put her on these soft chews and again, within a month, she was walking with no issues. Now she'll even break out in a sprint when we go for walks! It's not a long sprint but she'll sprint! lol When our other 2 dogs get older and if/when they start having joint pain – we'll put them on Dasuquin too, it truly works!"
——————————-
From both positive and negative, 94% of reviewers would recommend this product.
Nutramax Dasuquin with MSM Soft Chews for large dogs is a powerful antioxidant multi-nutritional supplement that improves dogs' joint health and builds stronger bones. It includes a variety of nutrients including vitamins, minerals, amino acids, herbal extracts, and probiotics that support proper digestion, immune system function, and overall health.
A powerful immune system and digestive system response promote healthy joints and decrease the incidence and severity of arthritis. It is formulated to promote optimal health for dogs with sensitive arthritic conditions and other breeds that have a history of joint problems.
It contains no gluten or wheat, so it is safe for dogs on a restricted diet. The supplement also contains a variety of vitamins and minerals that support good overall health and nutrition. Studies suggest that it helps to prevent chronic fatigue syndrome, Alzheimer's disease, diabetes, degenerative eye diseases, obesity, osteoporosis and cataracts, and certain forms of cancer.
——————————-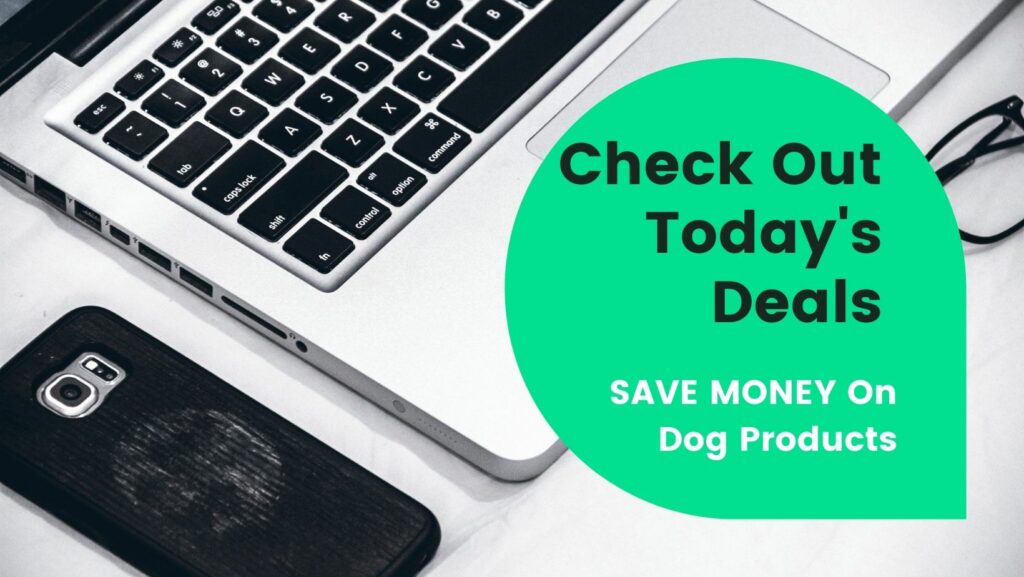 ——————————-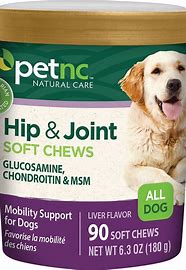 Keep your dog happy and mobile, with these chewy and soft dog supplements from PetNC. A great addition to the range of dog vitamins and supplements available. Formulated by vets, from quality ingredients, including chondroitin and glucosamine, that help to support joint health.  In addition, hyaluronic acid helps to lubricate the joints. Great for dogs with arthritis or those with joint conditions.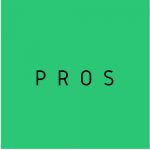 Great for senior dogs, and those with joint conditions like dysplasia and arthritis.
Soft and chewy for a tasty snack. Made to the highest safety standards.
Recommended by Vets.
Ingredients support mobility and healthy cartilage.
Bone health is supported by manganese.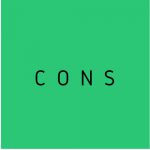 Some pets did not like the taste.

Actual Review from Buyer: – " My mom's dog is nine years old and has arthritis in her hips and legs. Within the next two days I would have given her 4 chewies a day for about a month. She's now running and playing and she hasn't really been active at all for the past couple months until we started giving her these chewies. It makes me happy that she is actually playing with the other dogs and running around and prancing when she's happy. Give it time to work!!!!
——————————–
From both positive and negative, 93% of reviewers would recommend this product.
PetNC Natural Care Hip and Joint Mobility Support are a dog health supplement that can help your pet maintain proper mobility of their joints. When most dogs are diagnosed with arthritis, they are given arthritis treatment only. This treatment may cause your dog to suffer from side effects and not be able to get its joints back into proper alignment.
By using the Natural Care Hip and Joint Mobility Support formula, you will be giving your dog the nutrients they need to prevent arthritis from affecting their mobility.  When your dog's mobility has been restored, it is easier for your pet to move around, play, and be outside with friends and family. This product may just be the solution you have been looking for.
—————————————-
Support your dog's mobility and joint health with these MSM soft chews from Nutramax.  Recommended by vets, Cosequin protects existing cartilage plus supports cartilage production. In addition, omega 3 fatty acids promote a healthy coat and skin.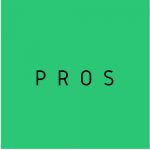 Tasty soft and moist chews.
Recommended by vets.
Supports existing cartilage from breaking down.
Mobility is helped with MSM, chondroitin, and glucosamine.
Omega-3 fatty acids support coat and skin health.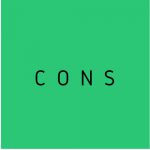 Some dogs just did not like the product.

Actual Review from Buyer: – " Bought these to replace the brand that has vitamins and minerals in and so glad I did!! It's amazing the difference. Sadie will be 11 this month and had injured her back leg/hip a couple of years ago and every so often it would bother her. Had to buy ramp. But now she won't use the ramp to get into the cab of the pickup and she is back in the house in the mornings wanting her "treat"/Cosequin."
———————————
From over 1300 reviews, both positive and negative, 91% of reviewers would recommend this product. 
If you are concerned about the joint health of your pet or if you have a family member that is concerned about their pet's joint health, then you need to consider the Nutramax Cosequin Maximum Strength Soft Chews.
Nutramax is the creator of a line of dog nutritional supplements designed specifically for your pet's needs. Their supplements are formulated to provide your pet with the vitamins, minerals, and other nutrients that they need for a healthy lifestyle.
Not only will Nutramax Chews provide your pet with great nutritional value, but they will also provide them with the antioxidants, minerals, and other nutrients that help maintain healthy joints.
The ingredients in Nutramax Soft Chews will help to repair and support your pet's bones and joints, which means that you will also be able to keep your pet healthy while relieving some of their pain.
————————–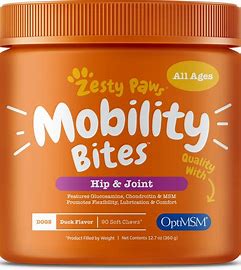 These dog chews and supplements from Zesty Paws are made from wholesome and quality ingredients. They include glucosamine chondroitin, which helps to support joint mobility.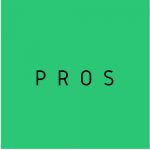 Specifically formulated for advanced joint and hip support.
Glucosamine helps prevent pains, aches, pains, plus arthritis problems.
Formulated with all-natural great ingredients, to care for your pet's hips and joints.
This food supplement promotes the immune system plus health with the heart.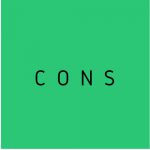 Some dogs would not eat them.

Actual Review from Buyer: – " Our rescue from Puerto Rico had been left in a cage for 6 months before we adopted her. I tried 4 other company products before getting this. Sasha would not eat the others, but she LOVES these!! It has only been a week and I can see the difference in her gait already. Although she is 11 yrs now, she plays with our other rescues like she is a puppy!! THANK YOU!!"
———————————-
There are a lot of pet mobility aids out there but the Zesty Paws products have the most proven benefits for dogs with back problems and arthritis. They can provide your dog with relief from stiffness and pain as well as prevent further damage to your pet's joints and muscles.
Many animal health problems can be avoided by giving your dog the best tools possible to keep them mobile, fit, and healthy. By providing these types of aids to pets, you can help them live longer and healthier lives. If you are shopping for a product to give to your dog, Zesty Paws may be the best choice for you and your pet.
—————————–
Help your dog's immune system with these dog supplements from Pet Honesty. The soft natural chews contain turmeric, vitamin C, colostrum, plus Salmon Oil. These ingredients can help with skin and food allergies, plus gut health can be improved with probiotics.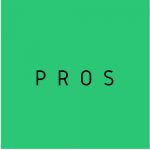 All-natural supplements boost the immune system and intestinal health.
Helps with skin and food allergies.
Help a weak immune system plus poor gut health with probiotics.
Contains no wheat, soy, GMOs, or preservatives.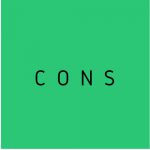 Some dogs did not like the product or it didn't work.

Actual Review from Buyer: – " My dog has had terrible environmental allergies resulting in frequent scratching and chewing that causes bald spots. She was on apoquel but this caused her to have urinary tract infections and it caused her to be very anxious (listed side effects), it is also hard on their organs. After stopping apoquel itching and chewing returned with a vengeance. Enter pet honesty allergy chews. THESE HAVE WORKED WONDERFULLY. She is not itching or chewing, her coat has recovered and she has more energy. She gets two each day at her dinner time and thinks they're a treat. I definitely will keep her on this long term. "
————————————
From over 2000 reviews, both positive and negative, 90% of reviewers would recommend this product.
Pet Honesty Allergy Relief snacks are an amazing product for dogs with sensitive skin. These snacks are made from natural ingredients that contain no harmful chemicals. This is important since the food you give your pet can affect his or her health in many ways.
All of the ingredients are natural and safe, so your dog's digestive system will have nothing to pick up from. The chewable supplements work to ease any problems your dog may have with digestion, allergies, constipation, or low energy levels.
Allergy Relief snacks are designed to provide your dog with all the nutrition he needs without causing any harm to his digestive system. The chewable snacks come in three flavors, which are all-natural.  The supplement contains all the necessary vitamins and nutrients that a dog needs to keep his or her digestive system healthy.
All of these factors make the Allergy Relief dog treat very effective for dogs with sensitive skin and for those who are uncertain if their dog is on a diet. No dog should be without this valuable pet treat.
—————————–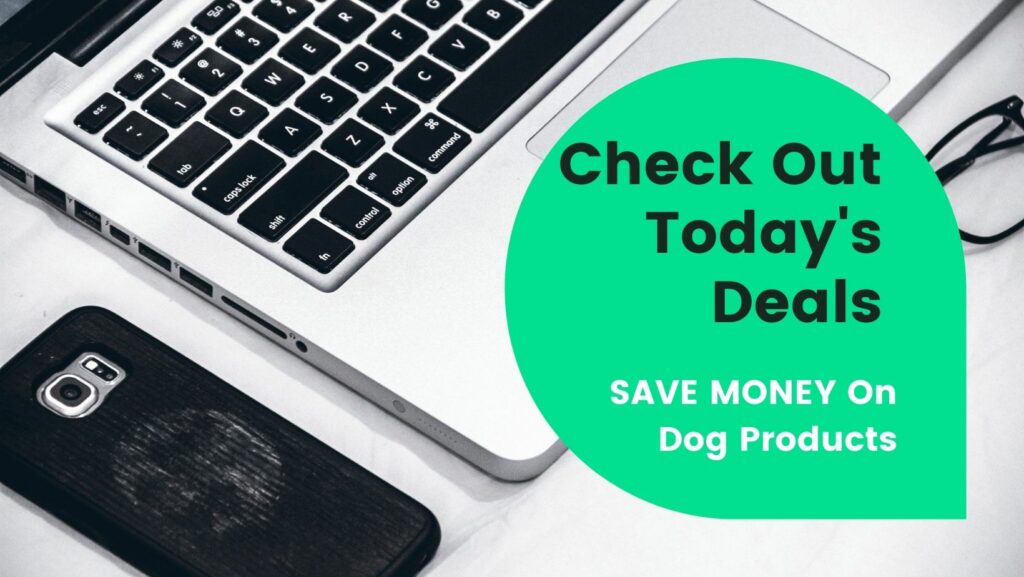 ——————————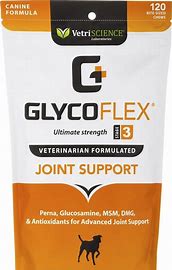 This Joint and Hip Supplement has been developed to help with your dog's mobility, through all stages of his life. It provides superior support for joints, through higher levels of Perna canaliculus and glucosamine.  Recommended by vets for aging dogs and pets with limited mobility.  It also includes active dogs who want to stay that way.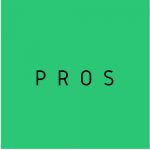 Approved by Vets for over 30 years.
Provides advanced joint support with DMG, MSM, antioxidants, and glucosamine.
Great for all dogs to help maintain mobility.
Bite-sized soft chews.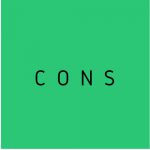 Some dogs did not like them.

Actual Review from Buyer: –  " This has absolutely improved the quality of life for my old man. I know lab breeds are prone to hip issues later in life, but this 11 year old dog is running around like a puppy again! I can definitely tell he's building more muscle mass in the rear legs, and I notice much less stiffness when he's getting up from laying down – loves the taste too!"
———————————
From both positive and negative, 94% of reviewers would recommend this product.
If your looking for a supplement that can assist your pets with arthritis the VetriScience Flex is an excellent choice. This company has been around since 1998 and has several products available including the Flex, a canine supplement designed to improve mobility and joint health in pets.
The basic premise behind the VetriScience product lines is to provide canine owners with an all-natural product that targets joint problems while offering improvements in other areas such as quality of skin and coat, immune system function, and circulation.
One of the main areas in which the company has had success is to provide natural ingredients that target specific joint problems. For example, there are specific joint supplements available to address issues such as osteoarthritis in dogs.
The Flex is specially formulated to use with dogs that have had accidents. The ingredients used in this product are designed to be safe and effective without causing negative side effects.
—————————————-
Approved by vets, these soft chews address the causes of anal gland problems in pets. They will help to empty the anal glands naturally, instead of frequent expressing.  A healthy gastrointestinal tract is promoted with digestive enzymes and probiotics.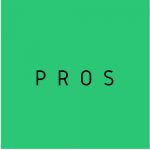 Helps to keep the anal glands healthy with a patented scientific formula.
Creates firm stools that help the anal glands empty naturally.
Maintains your pet's digestive health and boosts the immune system.
Formulated by Vets.
Contains no wheat, soy, artificial flavors, or corn.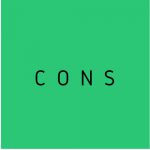 Didn't appear to work for some dogs

Actual Review from Buyer: – " Chews are easy to give & dog eats them right up, so they must taste good! Have been giving daily for a month & anal gland issues seem to be improving."
—————————
From both positive and negative, 89% of reviewers would recommend this product.
Vetnique Labs has been researching the benefits for dogs of an all-natural, plant-based supplement called Glandex. They have spent a considerable amount of time working with the ingredient Glandex to develop the most powerful oral supplement available.
Developing an ingredient that mimics the benefits of an herbal laxative, while also providing your dog with additional fiber and minerals. This not only helps to alleviate constipation but also helps to eliminate waste buildup and excess bacteria. Furthermore, because it is an all-natural product, no prescription is needed.
Benefits:
The benefits for dogs of Vetnique Labs Glandex are two-fold. First, this amazing supplement is formulated to help relieve anal gland issues by gently removing old, impacted feces and providing supplements necessary to maintain healthy anal glands.
Second, this all-natural, nutritionally balanced supplement will provide your dog with other vital nutrients and aid in weight loss. Both of this combined help your dog's overall health and, in turn, will help them to feel better, have more energy and to reduce their risk of both common and serious illnesses. As a result of both of these aspects, the  Glandex is an effective tool that works towards overall better health.
—————————–
The Importance Of Vitamins:
Vitamins are essential for healthy dogs in helping to keep dogs healthy. Much the same as pet owners are helped.
Vitamin E:
Vitamin E plays an essential role not only in protecting dogs against common colds, flu, and other viral infections but also because of its high antioxidant concentration.
As with humans, vitamin E protects against excessive heat, too much sun, pollution, blunt trauma or injury as well as many other conditions, diseases, and illnesses.
It is very important to give pet parents a wide variety of nutrients and vitamins. However, the benefits of these nutrients are greatly enhanced if they are combined in appropriate proportions.
In order to get all the benefits of vitamins to their pet parents, it is very important that pet owners provide them with an ideal mix of nutrients such as (proteins, carbohydrates, vitamins, and minerals) in a proper proportion.
Vitamins For Puppies: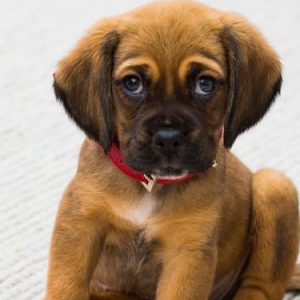 Some of the most important vitamins for puppies include proteins, carbohydrates, vitamins, and minerals.
Other important nutrients that dogs need include (vitamin B, folic acid, calcium, magnesium, potassium, sodium, zinc, phosphorus, selenium, thiamin, etc.)
Another important vitamin is fat-soluble vitamin A, which helps improve cell function. This is done by increasing the production of hormones. In addition maintaining and stimulating the production of sperm, and making sure that pregnant sperms remain healthy.
This nutrient is also important for the health of the adrenal glands, plus it is necessary for proper cell development and function.
Last but not least, a fat-soluble vitamin E is an antioxidant that prevents the oxidation of low-density lipoprotein (LDL) cholesterol. This nutrient also increases the synthesis of other hormones, like progesterone, testosterone, estrogen, and liver enzymes.
We hope that the information above has helped you make the choice for the best dog vitamins and supplements available to purchase for your pet.
————————
Related Articles:
Best Flea and Tick Prevention For Dogs
19 Best Dog Healthcare and Wellness Products
—————————-
Disclaimer:  All material on this website is provided for your information only. It may not be construed as medical advice. No action or inaction should be taken based solely on the contents of this information. Instead, readers should consult appropriate health professionals or veterinarians on any matter relating to their pet's health and well-being. The publisher is not responsible for errors or omissions.
This presentation contains images that were used under a Creative Commons License.