My motto is, Please Adopt, Don't Shop.  As one who is involved in the rescue of dogs, I hope that beautiful dog quote, by W Bruce Cameron, in video and picture formats, will inspire and motivate you to adopt a pet. In addition, not to forget the great health benefits and unconditional love they will bring into our lives.
New owners have thanked us for bringing the new rescue dog into their lives.  Sometimes, it's hard to know – who rescued who. However, everyone wins and that's all that matters.
Video:
—————————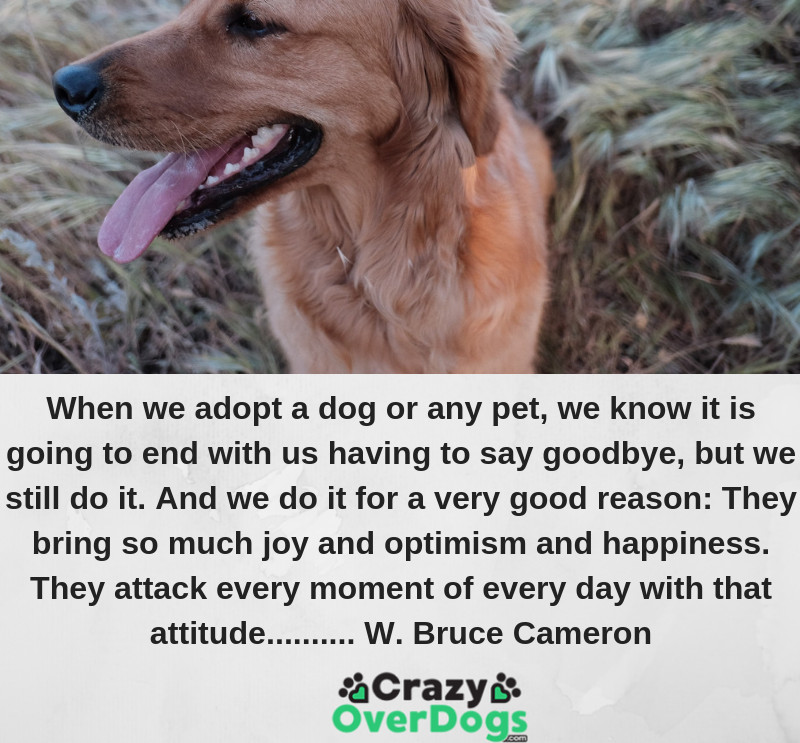 When we adopt a dog or any pet, we know it is going to end with us having to say goodbye, but we still do it. And we do it for a very good reason. They bring so much joy and optimism and happiness. They attack every moment of every day with that attitude………. W. Bruce Cameron
William Bruce Cameron. He is an American author, columnist, and humorist who was born in Petoskey, Michigan. He is best known, for his novel A Dog's Purpose, which spent 19 weeks on the New York Times bestseller list.
———————————
Why Should You Adopt A Dog:
Well, there are so many advantages to adopting a dog that they simply warrant an entire post of their own to discuss. Please read our other post called "Why Adopt a Rescued Dog!"
Adopting a pet from a shelter dog saves your precious pets' lives. Do you know how sometimes when an animal is in horrible shape and abused by humans, they are put into a shelter? When adopting a dog from a shelter, you are saving a dogs' life and they will hopefully live a quality, happy life with you.
Another great reason to adopt a shelter dog is that shelter dogs are usually very clean, they have a loving, nurturing environment, and the staff is wonderful at caring for animals.
If you are not sure if adopting a dog is right for you and your situation then check with a local pound or pet adoption center to see what type of dogs are available for adoption. Most cities have a wide variety of different breeds of dogs just waiting for a new home. Remember, before adopting a dog, make sure it's a good fit for you and your family. Thank you.
—————————–
Make sure to check out today's deals to SAVE money on dog products by clicking on the graphic below. Don't miss out.
This post contains affiliate links and I will be compensated if you make a purchase after clicking on my links.
———————————————–