Looking for the best orthopedic dog beds, then we have a solution for you. Your dog needs an orthopedic bed, but you are not sure where to find the best beds. Read our following reviews, including video, to help you make the best choice.
If you are in a hurry, we have included a table of contents below, so you can see at a glance what the content is. The first product will only take two to three minutes to read. The bed is designed for those at risk for joint issues such as arthritic older dogs. Although it is expensive, 98% of reviewers have recommended this product.
Make sure to check out today's deals to SAVE money on dog products by clicking on the graphic below. Also, click here to visit our special offers page for ongoing offers for more savings on dog products. Don't miss out.
This post contains affiliate links and I will be compensated if you make a purchase after clicking on my links.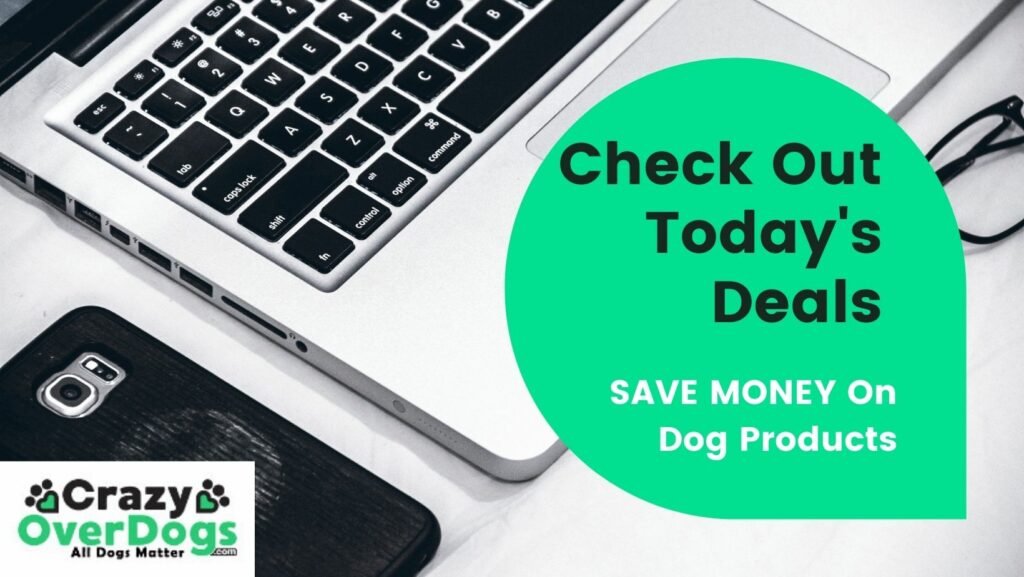 ————————–
Please view below our Top 5 Picks for the Best Orthopedic Dog Beds to help you make the best choice for your pet. Click on the relevant link below this video if you wish to purchase one of these products. 
Best Orthopedic Dog Beds Video Review:
——————————–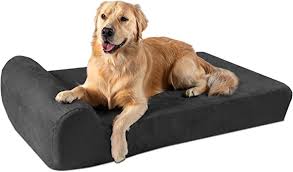 Pamper your dog with this top Orthopedic dog bed. It is designed specifically for arthritic older dogs, dogs recovering from operations, or those with joint issues. It can help to prevent and help with joint pain.
Craftsmen handcraft these luxurious pet beds for optimum comfort.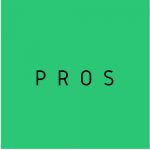 Explicitly designed for arthritic older dogs and those at risk for joint issues.
It helps to prevent and ease joint pain.
Comfortable and durable
Super-soft 100% microfiber cover to provide optimum comfort.
Easy to clean plus machine washable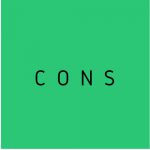 • It's  expensive

Actual Review from Buyer: This is the 2nd Big Barker bed that I have purchased. My first one I bought in 2013 and it is still like new. I bought the waterproof liner. There are a lot of beds that do not give you the option of a waterproof liner. I have two senior dogs and one of them has accidents. After ruining two other beds (not Big Barker) I will now only purchase Big Barker. These beds are very well made especially for older dogs. This is the only bed I will buy."
—————————-
Of the positive and negative reviews of the product, 98% of the reviewers would recommend this product.
The Big Barker 7 Headrest Orthopedic Dog Bed is a well-built, ergonomic dog bed that gives your dog a high-quality, supportive backrest and padding. Your dog needs time to stretch out and exercise each day, so you want to make sure they are able to get enough of that.
Having a comfortable bed to sleep on, keeps your pet from getting stiff necks or other body aches. In addition, beds with removable layers provide more convenience in cleaning up after your pet.
Most orthopedic dog beds have removable padding. The Big Barker has double layers of padding which means you can clean up both the inside and outside of the bed more easily.
House Pets: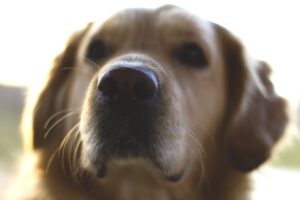 If your pet spends a lot of time at home because they are a house dog, having an orthopedic bed is important to keep them happy and healthy.
Some dogs may react negatively to the soft padding but most orthopedic beds are made of thick, durable materials. In addition, it will give your pet plenty of support, no matter what.
Just keep in mind that there are different sizes available so measure your dog's neck or head and select the bed that fits accordingly. Many pet stores carry this line of beds as well as beds for other types of dogs including large breed dogs.
However, if you have a bigger dog, such as a German Shepherd or a Great Dane, you may want to look into something special, such as the Big Barker Headrest Orthopedic Dog Bed.
——————————–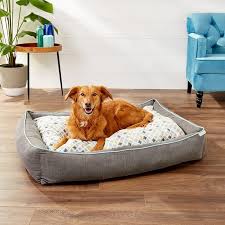 This Frisco orthopedic pet bed is easy to enter and gives your pet a great spot to snuggle up in. Its modern look will complement any decor in the home. It is fashionable and super soft from the inside out.
The bolster is covered with gray chenille jacquard and a removable cushion. In addition, it has a geometric twill print on one side and a soft cloud Sherpa on the other. Easy to keep clean because it is machine washable.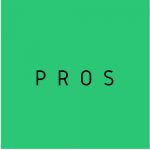 Extremely soft and cozy.
Its modern design will complement the décor of your home.
Two-piece, rectangular-shaped pet bed made with a cushion that is removable. 
Orthopedic support is provided with the convoluted foam base.
Machine washable for easy cleaning and care.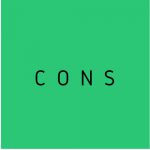 A small number of customers were expecting the bed to be more supportive.

Actual Review from Buyer: –  " It ended up being smaller than imagined but that was my own fault since the size was already listed. My pups fight over it all the time, super cozy and well-cushioned. They don't prefer beds that go flat too quickly and this has held up so far. You can flip the interior cushion but they prefer the sherpa side during these cold winter months. I may need to get a 2nd one so they can each have their own bed. 🙂 "
————————-
From the positive and negative reviews of the product, 93% of the reviewers would recommend this product.
The design and comfort of this product are excellent. They are made of heavy-duty vinyl and are designed to be durable. Some dog owners may have issues with their dogs sleeping in hard-to-sleep or supportive beds, which may cause discomfort for the dog.
Sturdy Construction: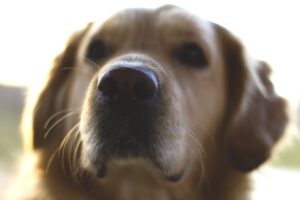 The bed has been specifically manufactured with dogs in mind. Because of the sturdy construction of the bed, this must be one of the best orthopedic dog beds you can buy.
There are other orthopedic dog beds that can be purchased in various other sizes, but they do not offer the support your dog needs. When purchasing these beds, there are several benefits to consider.
For example, most of these beds are made to be extra tough, which will help support your dogs' heads and spinal cords. You can also purchase a foam insert to help support their necks as well. All of these are wonderful perks, and due to the extra toughness, you can be sure these will last for years.
——————————–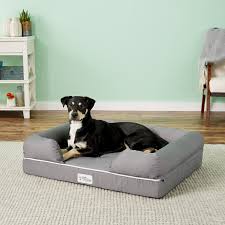 PetFusion is a brand that is recognized globally for producing quality pet products. Give your dogs the comfort they deserve with this durable and modern Pet Fusion Orthopedic dog bed.
It features supportive bolsters and 4-inch memory foam. Machine washable with an anti-tear cover. Quality is constructed with a simple and comfortable design.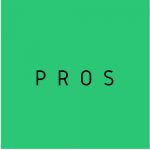 All sizes feature a memory foam base.
Waterproof liner to prevent potential accidents.
It will cover that's gentle on the dog's skin
Extra support and comfort with recycled polyfill bolsters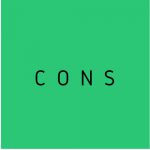 Actual Review from Buyer: – " We purchased our first PetFusion bed from Chewy about five years ago. We have been very pleased with its durability and ease of washing the cover. We decided to buy another in the same size (Medium), and the new bed is even better! The design has been improved to make it easier to take apart for washing the cover. Also, this new bed helps prevent leakage onto the inside foam when our older girl occasionally wets her bed at night. This bed arrived on time, in pristine condition, and was ready to use within minutes. We give the highest recommendation for this PetFusion bed. If you have a large Collie, the medium could be tight and a large may be a better fit."
—————————-
Of the positive and negative reviews of the product, 96% of the reviewers would recommend this product.
This dog bed and lounge is an upscale addition to your home with a contemporary design that blends naturally into your home. Quality materials, high-tech construction, and clever features put it miles ahead of the pack and give you excellent value for money.
Important Benefits: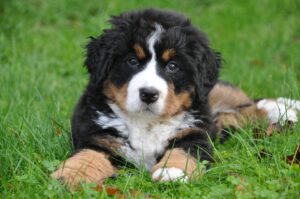 There are some very important orthopedic benefits associated with owning a memory foam dog bed. One of the biggest benefits of a pet foam dog bed is that it supports your dog's weight and is very firm without being bulky.
Another orthopedic benefit of a memory foam pet bed is that it helps to prevent spinal problems and other painful health issues.
A third major benefit of memory foam beds is that they help your pet's body become accustomed to sleeping on a regular surface. This is instead of being on their feet, which can cause damage to their joints and bones.
If you own dogs that snore, then these innovative beds are designed specifically to help. The unique orthopedic support shapes their head and back into a state of comfort while they sleep, preventing them from snoring.
Memory foam also reduces the likelihood of sores and infections occurring from long-term sleep on hard surfaces. These beds come with an optional water-resistant covering, removable liners, and a padded head and neck cushion. This adds extra comfort and benefits to your pet's overall health and well-being.
——————————–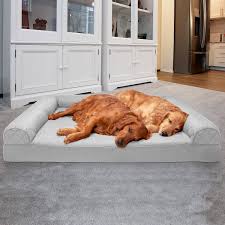 This bed has a soft quilted suede sleeping surface and an orthopedic foam base which is medical grade. The egg crate foam relieves pressure on joints to aid sleep.
The open side of the bed, allows older arthritic or smaller pets to climb easily in and out of the bed.  Available in four colors to complement any decor and four sizes to fit most pets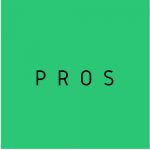 This medical-grade bed is designed for maximum comfort
Soft, quilted suede sleeping surface and a dense orthopedic foam base.
Egg-crate foam to relieve pressure on joints.
Three suede side bolsters provide support and comfort for your pet.
Easy to remove for cleaning, plus the cover is machine washable.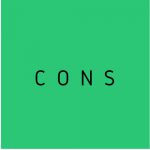 •   Some customers thought the bed would be thicker

Actual Review from Buyer:  " Finally a bed for my Labrador Retriever that is bigger than standard females. After 4 years of buying kennels and bedding that are supposed to be extra large, this one is and she loved it right away. The only improvement I would make is a more durable covering. After a couple of weeks it already has a few holes in it from "nesting" before she settles down on it. The Chihuahua loves using the corner spot."
——————————
From over 2000 reviews of the product, both positive and negative, 83% of the reviewers would recommend this product.
The FurHaven Quilted Orthopedic Sofa Dog Bed is a perfect choice for pet owners who need to take their dogs on long walks. It is created with modern materials and is thus able to provide support and comfort to the animal during these trips.
These can be used in various places such as on the lawn or even at the beach. The fabric used for making this product is specially made from polyester and is thus very comfortable for the animal.
Benefits: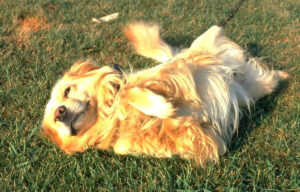 Moreover, the durability of the material makes it ideal for outdoor use. Other benefits of using this product are that it can be washed easily as there are no stain-resistant materials used in the product.
Moreover, it is a product that is highly durable and long-lasting. Hence, there is no need to invest in buying new furniture for your home once your pet starts using the bed.
Another benefit is that this item can be easily folded so that you can carry it when you move from one place to another. The weight of the animal cannot exceed 5 pounds, so you can be assured of the safety of the orthopedic sofa during long trips.
FurHaven has been in the business for many years now and is known for providing excellent products that are designed keeping in mind the needs of pet lovers. Hence, they are able to offer people the best and highest quality dog supplies at a reasonable price.
——————————–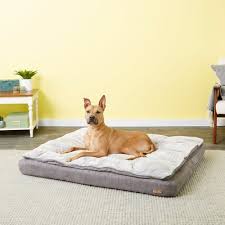 With this top orthopedic bed from K&H Pet Products, your dog is sure to enjoy a sound sleep. It is combined with 1.5 inch baffled duck feathers and a 5-inch medical-grade foam base that cushions your dog's pressure points, such as the shoulders and hips.
Complimented with micro-suede, the cover is removable for machine washing making it easy to clean.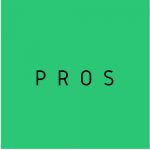 The orthopedic design cushions your dog's pressure points.
The base is made of five-inch orthopedic, medical-grade foam
Baffled duck feather top.
The two-tone design is attractive and sure to fit in with any home décor.
The cover is removable making it easy to clean.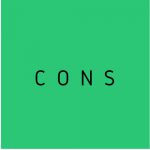 A small number of dogs did not like the bed.

Actual Review from Buyer: This bed is great! Both our dogs love them, the memory foam is firm and the top layer is very soft. They are easy to wash and get the memory foam back in the cover."
—————————–
Of the positive and negative reviews of the product, 96% of the reviewers would recommend this product.
The K&H pet bed line is made with your comfort and health in mind. They are designed for dogs of all ages and are comfortable for dogs of all types. Their orthopedic design makes them ideal for older dogs that have joint problems.
This line also has a great absorbent feature and is designed to help keep your dog warm when you need it the most. They do have several sizes available so there should be a size to fit your dog.
When you buy this K&H top orthopedic dog bed, you will find that you are not only getting a comfortable product for your dog but a good quality pet bed that you can count on for many years to come. If you want a durable, comfortable, good-quality pet bed that is also affordable, this is the type of pet product for you.
——————————–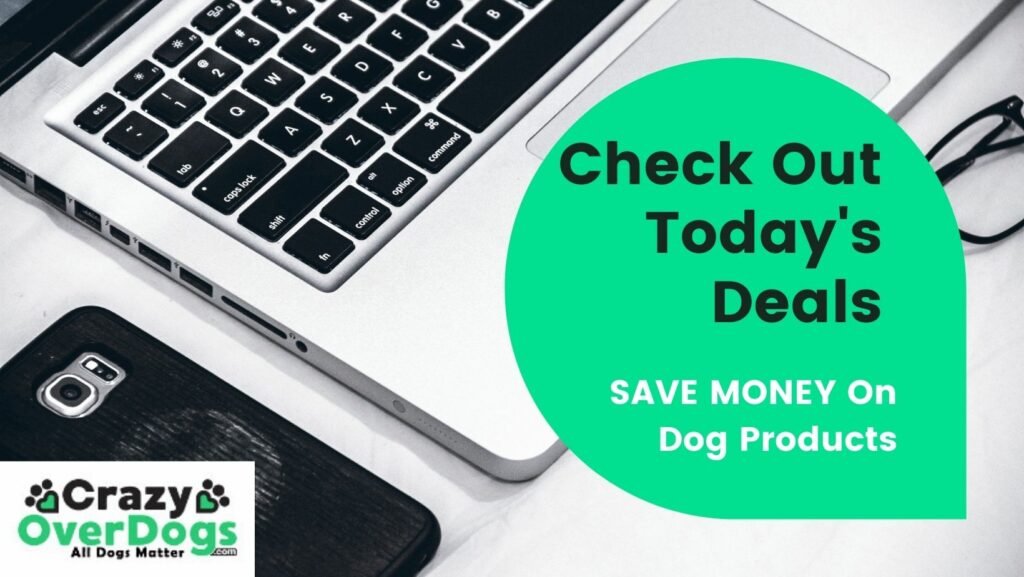 —————————–
This article will introduce you to what the word orthopedic means, and how to select the best orthopedic bed for dogs.
First, you have to know what the word orthopedic means.  Someone might have told you to get your dog an orthopedic bed, and you have no idea what it means and how it differentiates from the typical dog bed.
What Is An Orthopedic Dog Bed:
Wikipedia defines the word orthopedic as one designed to give support to the back, joints, and body.
In this case, we may describe an orthopedic dog bed as one which is made of orthopedic foam and can react to and support your hound's weight in a better fashion.
If you squeeze your dog's bed and notice that you can feel the floor, the bed is not giving your hound enough orthopedic support, you need to get another one.
Buying Guide for Orthopedic Dog Beds:
Nowadays people tend to treat their dogs the same way they treat their children, providing them with some of the best food and toys. Because of the love and affection, you give your pet, you also need to make him feel comfortable as he puts his head down to sleep at night.
Normal dog beds are available in the market in all sizes and shapes, but they can't be as comfortable as an orthopedic dog bed. These beds are superior when it comes to comfort, and have the ability to support your hound's joints and bones.
They are very vital, especially if you have an older dog,  but it must be said that all dogs need to have these beds for proper joint care.
Why Buy An Orthopedic Dog Bed:
Orthopedic dog beds have been proven over time to help dogs that have arthritis and joint issues. Most dogs sleep better on these beds which can be evidently seen when they wake up. They'll merely stretch and trot off happily.
The following dog categories can really benefit from orthopedic beds.
Older dogs. 
Those dogs with joint problems.
Working dogs.
Those dogs with existing joint problems such as hip dysplasia.
Beautiful Service dogs.
Factors To Consider Before You Buy:

Age Of Your Dog:
If your dog is still a pup, you can go for a simple cheaper bed if you don't have enough cash.
But if you have an older dog, then you'll need to stretch your financial muscles to make sure he extends his days on earth.
Size Of Your Dog:
Large dog breeds will require bigger beds. You have to know how long and wide your hound measures to make sure he doesn't squeeze so much.
You have to get him something that he can stretch and turn freely.
Ease of Cleaning:
Sometimes dogs may mess with their beds which will force you to clean regularly. Getting a bed with a removable cover can be very important as you can easily remove and clean it. Also, gets a waterproof liner, especially if you have an older tail-wager, who is incontinent.
Aesthetics:
Dog beds come in many colors. Any dog bed is an investment, which means you have to buy one which blends well with your decor.  Although not a very important factor, most owners would want a dog bed that doesn't look out of place. If you won't get one that blends, at least try a neutral color.
Price:
Orthopedic beds are usually expensive.  Although they are usually worth it, consider the benefits that they bring to your dog. But if your dog has serious problems, ensure that you don't get duped into buying a fake orthopedic bed.
Although they are comfortable, polyfill-made beds are not useful for dogs with joint problems and may end up disappointing you.
Conclusion:
Sometimes you wake and feel lazy getting out of bed. Or you wake up with a backache. It may be even worse for your canine friend. Since they cannot speak for themselves, you have to watch out for some specific signs to find if your dog sleeps comfortably.
As dogs get old, their joints stiffen up. Also, arthritis is a common disease associated with old age among tail-wagers. Larger breeds are the most affected.
If you have an old canine friend, or if you want to give your pet a comfortable place to sleep, I would recommend you to buy this type of dog bed. We hope that it will be easier for you to get a quality bed at an affordable price after reading the information above on the best Orthopedic dog beds.
————————–
Related Articles:
Disclaimer:  All material on this website is provided for your information only. It may not be construed as medical advice. No action or inaction should be taken based solely on the contents of this information. Instead, readers should consult appropriate health professionals or veterinarians on any matter relating to their pet's health and well-being. The publisher is not responsible for errors or omissions.