This review is about Greenies dental dog treats which are recommended by vets. Give your dog a cleaner and fresher breadth with this tasty treat. In addition, the unique texture will help to fight tartar and plaque. Vitamins, minerals, plus additional nutrients. gives support for the overall health of your dog.
The content takes around 4 minutes to read, but if you are in a hurry, we have also included a table of contents below so you can see at a glance what the content is. This post contains affiliate links and I will be compensated if you make a purchase after clicking on my links.
Greenies Dental Dog Treats Video:
————————
What Are Greenies Regular Dental Dog Treats: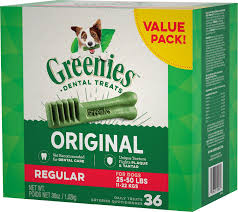 With an estimated 21 million dogs in the U.S. alone, there's no question about the need for regular dental care for dogs. If your dog has tartar and teeth problems, it can make them uncomfortable, painful, and unsafe to interact with.
The way Greenies Dental Dog Treats work is quite unique. Unlike traditional dog treats, they contain ingredients designed to help promote dental health. The ingredients work with the natural process your dogs have to break down protein to release enzymes that help maintain dental health.
This kind of dental supplement is designed to give dogs a variety of different benefits. By using a variety of ingredients, the product works to strengthen the teeth and gums. This prevents tartar and plaque from building up which makes tartar and plaque less likely to hurt your dog's mouth.
Preventing plaque and tartar from building up, also ensures that your dog's teeth stay cleaner and healthier for longer. 

Pros:
Vet Recommended
Cleans down to the gum line for a fresher breath.
Ingredients are easily digestible.
Contains nutrients, vitamins, and minerals.
Cons:

Some dogs did not like them.
—————————–
The Importance of Dental Care For Dogs:
This cannot be understated. In most cases dogs will live a lot longer with good health, so why not invest in your dog's dental health? The condition of their teeth and gums can affect their ability to live a happy and healthy life and can even lead to some diseases.
If your dog is missing any of its front teeth, it may have a build-up of tartar. This will lead to a buildup of mineral deposits under their gum line, which over time can lead to tooth decay.
In addition to the buildup of these mineral deposits the bacteria that naturally live on your dog's teeth also thrive on the plaque. A dog's saliva has the ability to neutralize the acid produced by plaque and bacteria to help cleanse away any excesses from your dog's mouth.
—————————–
Conclusion:
Proper dental care is vital for all dogs. However, with so many factors that cause dental problems in dogs, it can be tough for them to keep their pearly whites clean and healthy. If you want to help your dog maintain a healthy smile, you can simply give them Greenies Dental Dog Treats and help to eliminate the need for expensive dental care.
Make them an important part of your dog's dental care regimen and help deal with the build-up of plaque. Please click now on the order link below.

Related Article:
—————————-
Please SHARE this video and check out today's deals by clicking on the graphic below.
——————————–
Disclaimer: All material on this website is provided for your information only. It may not be construed as medical advice. No action or inaction should be taken based solely on the contents of this information. Instead, readers should consult appropriate health professionals or veterinarians on any matter relating to their pet's health and well-being. The publisher is not responsible for errors or omissions.