We hope that this inspiring dog quote will remind you of how lucky we are to own a dog and the great health benefits that it can bring into our lives.
With regard to this quote, I totally agree with it. I also find that dogs are susceptible to your moods and appear to know if you are down. They will help you with anxiety and depression and also keep you fit.
Inspiring Video Dog Quote:
———————————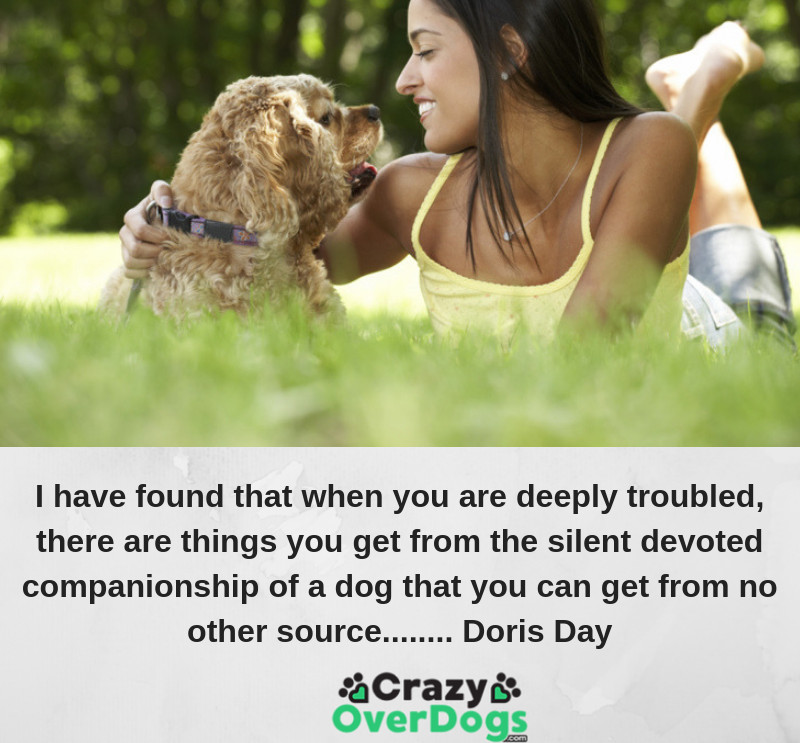 I have found that when you are deeply troubled, there are things you get from the silent devoted companionship of a dog that you can get from no other source……..Doris Day
Doris Day: She is a famous American actress and singer who was born in Cincinnati, Ohio. She began her career as a big band singer and went on to record over 600 songs. She also became the biggest female film star in the early 1960s.
———————————
Dogs have been found to be excellent listeners, and I can vouch for this fact. They are great companions for children or adults who can't walk, talk, or otherwise get around on their own. If you have a dog, then you know that having one is an investment. They are a lifelong companion and friend.
The dog's loyalty and obedience, as well as his or her love and loyalty to you, are priceless. Dogs as listeners are invaluable assets in today's world.
For kids that have dogs, they help in many ways such as encouraging exercise, plus helping with depression. In addition, it has been found that kids that grow up in families with dogs, get sick less often. For more information read our post called " Benefits Of Having a Dog For Kids "
————————–
Make sure to check out today's deals to SAVE money on dog products by clicking on the graphic below. Also, click here to visit our special offers page for ongoing offers for more savings on dog products. Don't miss out.
This post contains affiliate links and I will be compensated if you make a purchase after clicking on my links.
———————————————–