I find that some of the best life lessons learned from dogs are to live in the now and appreciate and enjoy the simple things in life.
I can count my dogs as my best friends. They are definitely part of the family and the love that they give back to all of us far outweighs what we give to them.  However, the best lesson I learned from my dog that I have learned from my dogs to date is:
Giving and Receiving Unconditional Love:
Our dogs will love us no matter what kind of day we are having, whether it be a good day or just a crap day. They will love you if you are fat or if you are thin.  They will love you if you are good-looking or not.  It's what we all want in human relationships.
I asked the above question, mainly on Quora and I received the following answers which are listed below. If you are a dog owner, I hope that you can relate.
———————————
Life Lesson 1:
That you can be happy whenever your loved ones arrive home irrespective of how bad the day was for you or how sick you were feeling the moment before their arrival.
It amazes me to see Pixie (my dog) so pumped up every day after I reach home from the office. I wonder if she ever has a bad day. And she does this for all the family members. The unconditional love your dog showers you with is incomparable.
Deena Baruah
——————————–
Life Lesson 2:
I love dogs.
If there is one thing they have taught me, it is being there for someone without any hope for reciprocity. Even if I scold him sometimes, I see him coming to me happy with his tail wagging the next minute because he knows at the core that I love him.
We, humans, tend to feel that we should only help those who help us because this world is a selfish place anyway. Right? Wrong. Learning how to love someone unconditionally is something that takes years to learn. And I see that in my dog every single day.
Kartiki Bhatnagar
——————————-
Life Lesson 3:
To slow down, to keep things simple, and to try to be in touch with people's feelings more than their words.
Daniel Pearl
——————————
Life Lesson 4:
It was a sultry summer afternoon. I and my dad were waiting to board a train in Hyderabad. Bored with browsing my phone, I started observing my surroundings and then this dog caught my attention. It was handicapped, roaming here and there to find a place to sit.
At last, it found a place to sit under a tree. After some time it felt thirsty, so all the way it crossed the platform, walked a long distance, and drank water from a leaking tap over there. Felt satisfied it again started to search for a place to rest and finally passed out under a big tree full of shade.
Why am I telling all this?
Well, that day I observed one beautiful thing about animals or maybe dogs. That dog no matter what condition it was in, it did what it has to do and didn't seek any attention or recognition just because its condition was bad.
It might have suffered, it might have mumbled with pain but it stood straight, drank some water, found shade, and slept. It accepted it's the situation without showing any self-pity and that nature really inspired me to not have self-pity anymore.
Sri Gayathri
——————————–
Life Lesson 5:
Our beloved dog, Buffy was dying. We'd dropped her off at the Vet to find out what was wrong with her and they had her overnight we learned she was in too much pain, too sick to continue and they were going to put her down. Sadly, we didn't know we'd missed our last night with her.
We got to see her one last time and that morning we learned that overnight, she'd deteriorated terribly, but she perked up and rose on wobbly little legs, and wagged her tail vigorously to meet us. It was painful to her, but she wanted to greet us with every last bit of her.
It's not about how you feel, it's about how much you love.
dogs are full of love.
Tom Martin
————————-
Life Lesson 6:
That's easy – live in the joy of the moment and accept what happens without wallowing in self-pity!
Paul Simpson
————————-
More Life Lessons:
That love is unconditional.
That loyalty is a gift beyond price. – Love This One
Life is short and should be lived to the full every day.
That absolute joy can be found in really simple things.
That no matter how bad a day you've had, the greeting you get when you get home makes it all melt away.
That we are so lucky that dogs exist.
Lissa Wiltshire
——————————–
Dogs are such a blessing to us, from the life lessons I learned from my dog to the health benefits that they bring us.
————————-
Make sure to check out today's deals to SAVE money on dog products by clicking on the graphic below. Also, click here to visit our special offers page for ongoing offers for more savings on dog products. Don't miss out.
This post contains affiliate links and I will be compensated if you make a purchase after clicking on my links.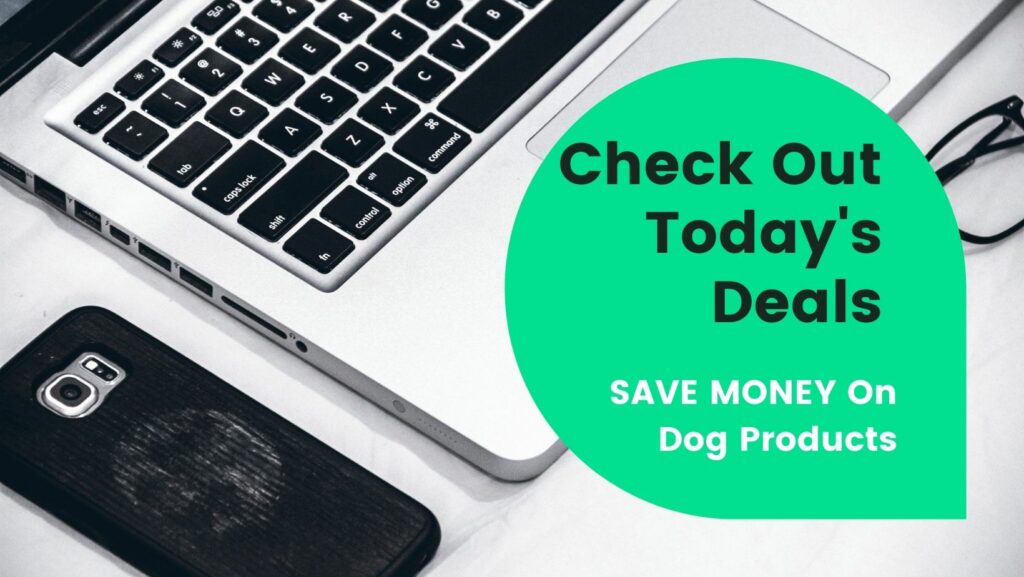 —————————–
Disclaimer: All material on this website is provided for your information only and may not be construed as medical advice. No action or inaction should be taken based solely on the contents of this information; instead, readers should consult appropriate health professionals or veterinarians on any matter relating to their dog's health and well-being. The publisher is not responsible for errors or omissions.