There are always discussions on what is the best way to train your puppy to be the perfect dog. Most dog owners want this end result, but does it actually exist?
For me, I don't think the perfect dog exists, because, like us dog owners, no one's perfect. However, the world is made up of some great people and also some great and amazing dogs. So what is the secret?
This post contains affiliate links and I will be compensated if you make a purchase after clicking on my links.
Important First Question: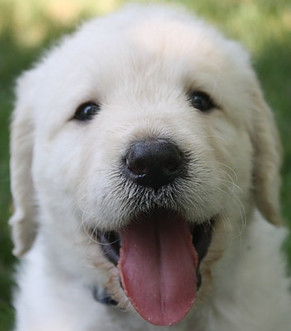 The first question to ask yourself is.- What does your dream dog do? This is before you think about enrolling in a good puppy training class or making them learn to sit or do a high-five.
Basically, what is my dream dog, to do all these fancy tricks, which you can then show off to all of your friends.  Then they can say, how clever your dog is. How did you make him do that?
However, the other side of the coin is to tell people not to disturb him when he's eating, or to keep the kids away from his toys; to quote some examples.
Most of the current training focuses on commands such as sit and stay, but not about the more important things. Unfortunately, when we do realize it, it's often too late.
The main reason for this is that everyone is doing what every other trainer is doing.  When it comes to aggression, that's a minefield. A dog that is out of control and aggressive is very dangerous. It will pose a threat to people, cars, and other dogs, especially if it ignores you on recall.
More dogs are put to sleep because of this major problem. It is this type of bad news, which gives dogs a bad name.  Again, few dog trainers truly understand this behavior and in turn, do not know how to prevent it.
Picture Of a Perfect Dog:
The picture of a perfect dog will include these most important behaviors which are listed below.
Good on the lead while out on walks.
Great around everybody, including kids.
Good on recall. 
Obedient and relaxed around the home.
Calm and relaxed around other dogs.
So how do we get these behaviors into our dog?
The path is not complicated or tricky. This is all due to Doggy Dan's The Online Dog Trainer video website. I recommend this site, because it worked for me,  for an issue we had with one of our dogs. Our dog kept barking and lunching at approaching dogs.
Through implementing his program and the 5 Golden Rules, we were able to correct the issue. It was not an overnight solution. As with anything in life, we had to put in the work.
Testimonials:
—————————————————-
I was skeptical but now Maxi no longer BARKS like crazy at visitors to the house…?????
We used the method Doggy Dan showed us and we were seriously amazed. She now barks once, we do the technique, and she calms right down and forgets about the people! So, so happy. Thank you DD."
Kate Belusso
Portland
—————————————————-
The only trainer that has made a huge, immediate impact to STOP THE BARKING…
The Online Dog Trainer has been a godsend to myself and our family, and our Australian Shepard dog that was highly stressed with constant barking. I am tremendously grateful for the new peace in our home!"
Carol McWilliams
Ontario
—————————————————–
I recommend strongly that the next thing you do today is to take a look inside the site!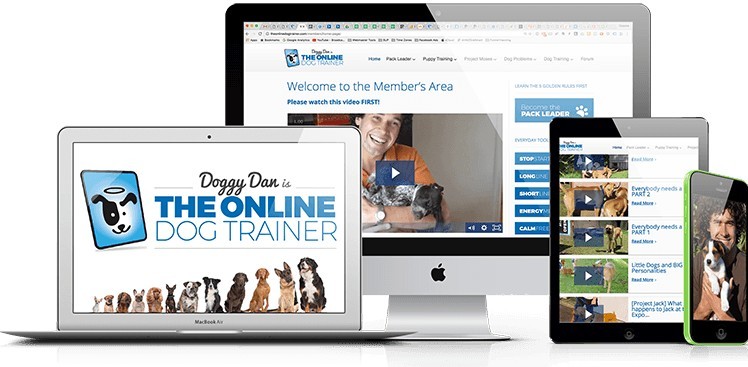 ———————————
The Membership Site:
Once inside the membership site, you will find the most amazing collection of videos, which will help you achieve your perfect dog.
There is a video diary of an 8-week-old puppy called Moses. It will guide you through the various stages to enable you to achieve the end result that I have mentioned. He actually filmed Moses on his growth for a whole year. Each week you were able to view various lessons, that Moses needed to learn.
You could, therefore, get to train your own puppy at the same stages of its growth and then make sure that major problems, don't arise later on in its life. There is also a forum, plus other sections covering behavior, health, and food.
It is truly an amazing website for the dog lover, with over 250 videos inside. It will help you achieve the 5 important behaviors listed above.
There is a famous quote by Henry Ford – "If you always do what you've always done, you'll always get what you've always got."
Therefore, if you truly want a dog you can be very proud of, then look no further.  Just <<< CLICK HERE NOW.>>>
Related Articles:
Top 10 Dog Training Secrets and Myths Revealed.